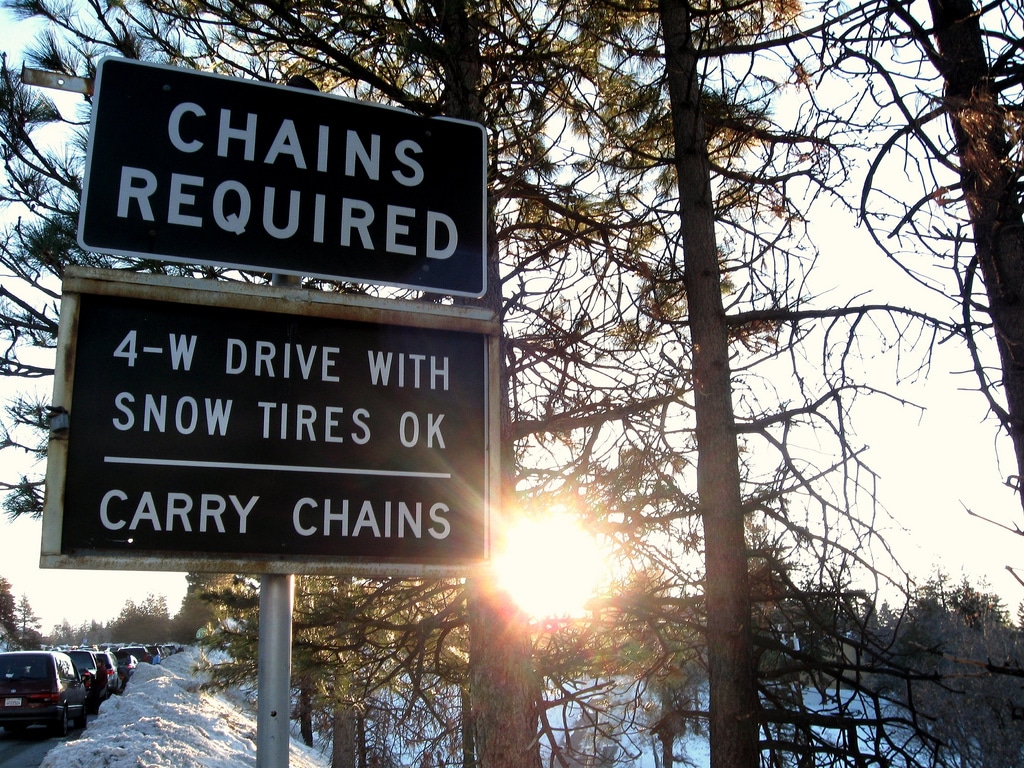 When winter approaches it pays to be prepared. Snow and ice can quickly bring about whiteout conditions and make roads impassable for some vehicles. If you are traveling on snowy roads or up into the mountains it always makes sense to bring traction assistance. Modern tire chains are quick and easy to install. They also store nicely in your trunk in convenient carrying cases.
Best Snow Tire Chains for Traction Assistance
Nothing will make you feel more comfortable when the snow is falling than a solid set of tire chains. Toss a set into your trunk and have confidence that you will be able to get where you are going. However, as with all products, every tire chain is slightly different from the other; use this table to get a clear understanding of their differences.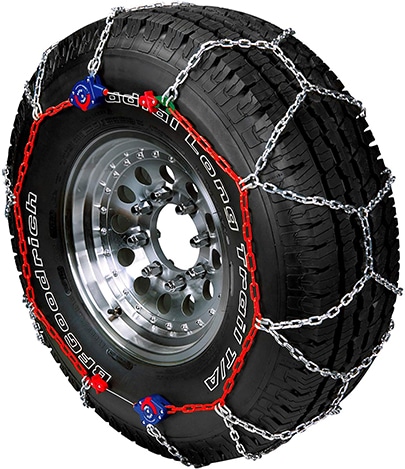 These Auto-Trac chains are not cheap, but you get what you pay for and they are best in class. Easy installation with automatic tightening means you don't have to move the vehicle or attach cable tensioners.
A Match For Weather
Made of tough manganese alloy steel, these tire chains deliver strong grip to your car, SUV or light truck. Streamlined to be lighter and narrower across the tire with a unique diamond pattern that helps reduce road noise. Superior traction in braking and cornering situations. Market leading installation technology with proprietary self-tightening ratchets mean no jacking or moving vehicle during installation. Tire chains tighten and center automatically as you drive and the ratchet retracts. Sold as a pair.
Durable and Easy
Buyers agreed that easy installation was critical. When pulling to the side of the road in a snow storm to attach traction assistance devices you want chains that install fast.
Snow chains create traction by compressing the snow and ice.
Several users noted that these streamlined tire chains are best for light duty and are smaller than a typical tire chain link. The chains are not a great option for off road work. The self ratcheting mechanism offers a tremendous amount of convenience but in exchange for that users sacrifice some durability. The self ratchets close fast and hold tight. Users have to pay attention to avoid creating a pinch hazard. If the ratchet breaks the chain is useless. Still it is a huge improvement over the old days of attaching tire chains or even attaching the modern tension rings found on competing brands. These chains do come in an 'S' class clearance configuration so that they can be used on light trucks and SUVs. Users should not exceed 30MPH with these chains installed.
Pros
Easy to install
Tight fit
Self ratcheting
Excellent customer service
Cons
Expensive
Hard to repair if broken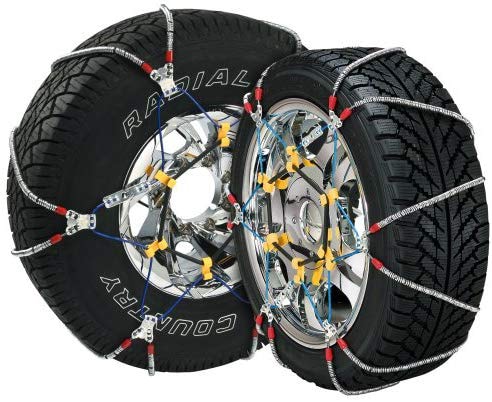 The Super Z6 Cable Tire Chain provides strong traction control and fast installation. The chain is designed for cars with small clearance and tight wheel wells. If you have very limited operating clearance around the drive tires these are a good choice.
Weather Protection
This product works well and is compatible with lots of vehicles. The chain uses a Z-shaped design that requires only .25 inches of sidewall clearance to operate. This is about half what other competing chains require. The tire chains are made of manganese alloy steel so they look narrower than conventional chains. The installation is easy and does not require the users to jack or move the vehicle. However, these tire chains do require the user to attach and tighten a tensioner ring. This is an extra step in the installation process and does create a pinch hazard. The tension ring works well at keeping these chains centered and tightly secured. The chains ship in pairs along with a nylon storage bag.
Installation Challenges
Because these tire chains are made for cars with narrow wheel wells the connectors are a little smaller and harder to work with. Rubber tensioners help pull the tire chains tight and need to be re-adjusted after driving. Strong fingers help and it would not be fun to install in the dark on the side of the road. If you do not have tires with limited clearance needs then consider a different version like the Shur Grips for easier connectors.
Some users complained about the quality of the chain and its durability over the long haul. Users reported some rusting and some warping of the metal. A bit of rust might be inevitable but the reports of warping is more troublesome as it can make storage and reinstallation difficult.
Pros
Designed for cars with limited clearance
Compatible with ABS and AWD
Automatic tightener
Cons
Durability concerns
Difficult installation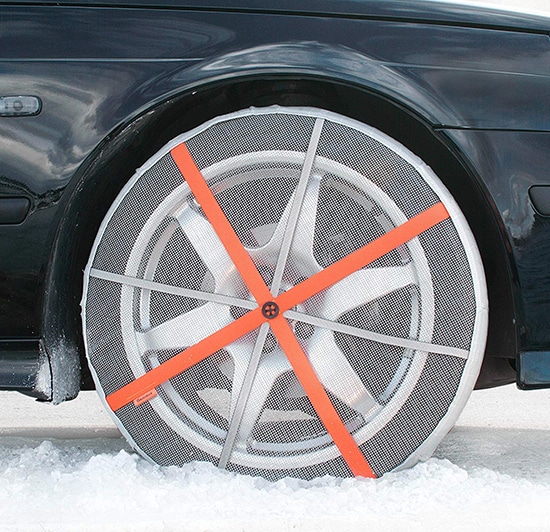 Unlike traditional chains or even the modern alloys, these Autosocks are made of a strong woven fabric. The socks slip on easily over the tire and create a new contact point between the vehicle and the road. Since the tread is covered, the socks dramatically increase the surface area contacting the road and improve traction. The key advantage of autosocks is that they are light and easy to use. Unlike a typical chain, these weigh under a pound and are completely malleable. They store easily in your trunk and are less intimidating to use than tire chains.
Tight Fit
While snow chains create traction by compressing the snow and ice, these tire socks create traction on the surface of the snow layer. They work similarly to how you might place a carpet underneath the spinning wheels of a stuck car. The autosocks create strong traction while also improving the ride comfort over regular chains. Since the socks are thin and light, they are compatible with narrow wheel arches, low profile tires, and ABS. The Autosocks are certified as snow chain equivalent in most states. If you are looking for some light and easy traction options to store in your trunk these are a good choice.
The woven fabric becomes the contact point between the vehicle and road.
Big Benefits
One problem with snow chains is that they are regulated differently state to state and in some places they are prohibited. Snow socks are usually still considered legal in places where snow chains are regulated. This is because the autosock will not damage the pavement on dry roads in the same way that tire chains do. The maximum allowable speed limit with snow socks is still similar to tire chains and usually between 20mph to 30mph.
Pros
Light and easy
Small storage space
Strong traction assistance
Cons
Non traditional choice
Installation requires moving vehicle
Get dirty but machine washable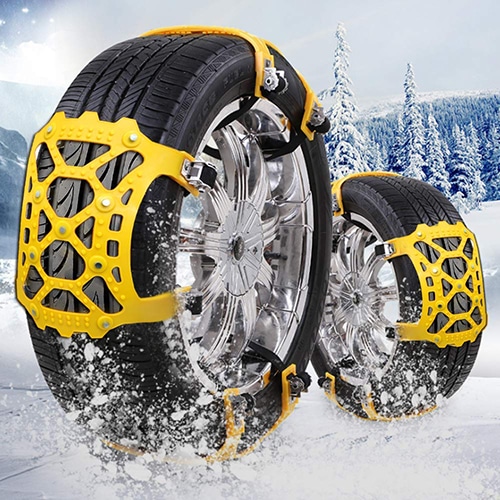 This model appears on our list because it uses the tedious installation process that other tire chain manufacturers warn you about. Pull to the side of the road and get your wrench out because these do not offer any installation frills.
Wrench Installation
This model sells really well because of its low price. It is impressive to see a set of tire chains that often retails for below fifty dollars. However we cannot recommend them to shoppers due to the installation process. Often when installing tire chains you are not in a warm comfortable place. It might not even be well lit. Installing these tire chains requires first feeding a belt through a small slot and then attaching a wrench onto a small bolt to rotate the shaft tight. Both of these steps would be a big ask on a snowy night, and together it makes these a poor fit for drivers looking for a smart solution.
Tire Flexibility
If you are willing to deal with difficult installation then these tire chains have a lot of great advantages. The best one is that they can fit flexibly on most any size tire. These units are smaller and to cover a wheel the manufacturer recommends spreading three of them out around the tire. Since the pieces do not connect for an end to end solution there is room for different size gaps in between the pieces and thus accommodation for different size tires. It is awesome that drivers can keep these in their trunk and theoretically assist most any type of vehicle.
Pros
Flexible fit on all type tires.
Steel studs for traction assistance.
Attractive price point.
Cons
Difficult installation process.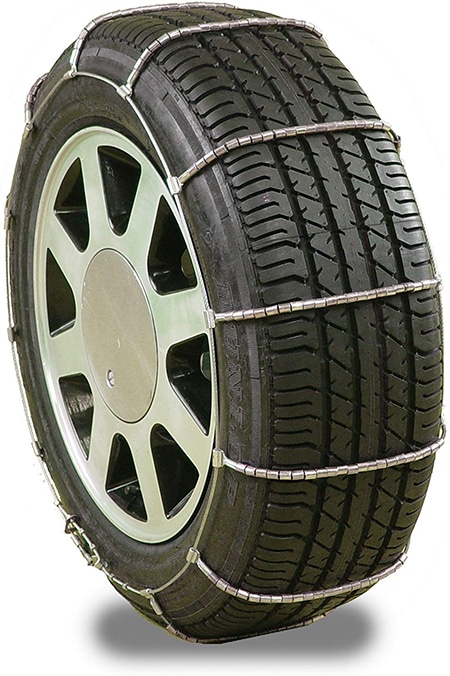 The 1046 Model passenger cable tire chains from Glacier Chains are a strong standard model. They have tough case hardened steel rollers over strong cable cross members and the low price speaks for itself.
Standard and Effective
These chains get the job done without any fancy tighteners or tread patterns. Instead it is just simple tough steel rollers strung across strong wire in a ladder style. The company does offer a rubber inner tightener but it is sold separately.
Suitable for installation on front and rear wheel drive vehicles.
The ladder style chain design used here can create more road noise then the diamond pattern or z model seen on some more expensive brands. Still, the ladder style is effective and the simplified design makes these tire chains very reliable. The design also provides good clearance, making these SAE class S approved to fit on limited clearance vehicles. The tire chains are lightweight and easy to store in an accompanying carrying case. Installation does require moving the car forward.
You Get What You Pay For
These tire chains are a better fit for using in an occasional snow storm. They do not have the consistent quality necessary to use them continually through a winter season. If you are doing daily driving in chains you will also want to consider a design that creates less road noise. The chains are not rated for high speed and users should be careful that the vehicles do not exceed 30 mph. As said before, you get what you pay for.

Pros
Economically priced
Strong steel rollers
Low profile design
Cons
Tighteners sold separately
Limited durability
Guide to Choosing the Right Tire Chains for your Vehicle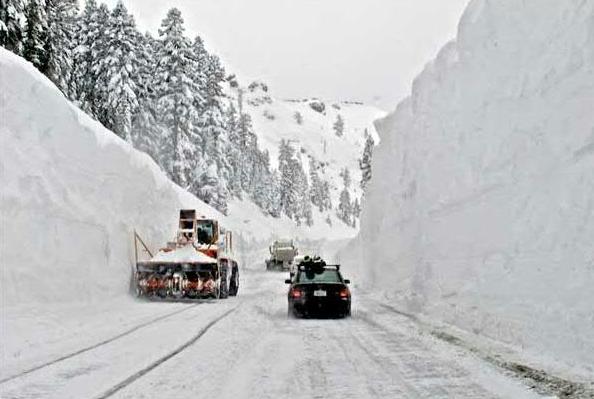 As you can see, tire chains can take very different routes to accomplishing the same task: keeping your car safely moving on snowy roads. Some rely on their innovative design to install easily, while others focus on accommodating multiple size tires. Whatever the characteristics, choosing the right tire chains comes down to personal preference and needs.
Tire Chains vs Tire Cables
When shopping for traction control devices be aware that there are two primary types to choose from: tire chains and tire cables. When you imagine tire chains you probably are thinking of traditional link chains covering the tires. These are still a great option for traction control. The tire cables are a newer option and have a lot of advantages, especially for light duty use. Both options recommend travel speeds below 30 mph.
Tire cables are usually a metal cable coated in plastic and covered in strong steel outer layer. The outer layer is often either case hardened steel or a manganese alloy steel that can take a beating and provide strong traction assistance. Manufacturers will tie these cables together into different patterns from a budget friendly railroad shape to a z shape that offers low road noise. Cables are less damaging to roads and can be used even when snow is not present.
Tire chains and cables are almost always sold in pairs. It is recommended that you connect them to your drive wheels, which are the wheels that connect to the engine and move your car. Sometimes in treacherous terrain you can also connect snow tires to all four wheels, but more likely if you have two pairs one should just stay in your trunk as a spare.


Tire Chain Tensioners
Installing tire chains can be a difficult and tedious process. Exposure to the elements will not make it any easier. Most shoppers will want to seriously consider the ease of installation when making a buying choice. The tire cables vary between self-tensioning cables and manual tensioning cables.
Manual tensioning cables require you to tighten them by hand. They also require that after a couple hundred feet you retighten them. Supposedly emergency vehicles prefer manual tensioning because they perform better at speeds above 30 mph, but remember that in every state it is illegal to drive about 30 mph with tire chains installed.
Self tensioning cables tighten using a tensioner that takes up slack or a ring tensioner that you apply on top of the tire chain. The tensioner is best imagined as a rubber band with clips that hold the tire chain tightly against the rubber wheel. Since they can let out slack these are much easier to install. However if a tensioner breaks it might be difficult or impossible to repair. Most manufacturers sell extra tensioners and keeping a spare is recommended.
Tire Chain Installation
Always do a test installation of tire chains so that you are not trying to install them for the first time in hazardous conditions. When installing the tire chains make sure that you have the correct side up. There should be markings on the chain to be sure you have them positioned correctly.
Keep a pair of rubber gloves in your tire chain bag and a towel that you can lay down to work on. Installing anything around the tires can become a dirty job fast.
Start the installation process at a point between your front and rear tires. Push half of the chain underneath your vehicle. Move around and reach from the other side of the tire to pull the cable fully around. Be careful of twisting the cables.
Manufacturers will vary installation processes but usually it involves connecting the rear parts of the chain and then tightening them to the front. Always stay safe during installation and work to avoid creating a pinch hazard.
Make sure the tire chains are attached tightly. The easiest way to damage the chains and your car is by having them loosely attached. Loose chains can quickly damage the road and your wheel well. After driving for a couple hundred feet stop and inspect the installation to make sure it is tight.
Tire Chain Maintenance
Caring for your tire chains mostly involves fighting corrosion. All tire chains are susceptible to falling victim to rust. An oil-based water displacer or lubricant can be used to prevent them from staying wet.
Spraying them with WD-40 before storing them goes a long way.
In the summertime take them out of your trunk and hang them up so that the links do not rust together.
Verdict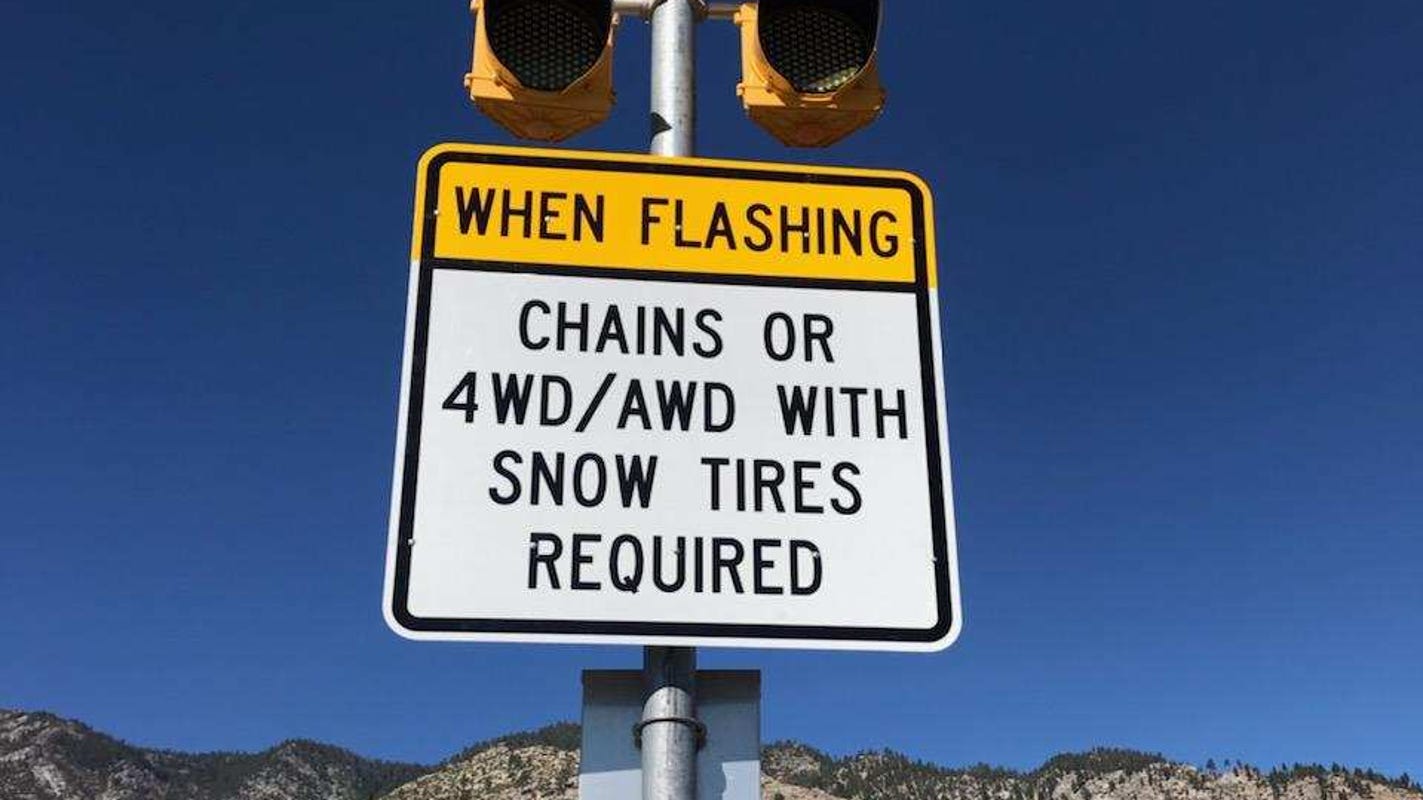 With the tough steel chain links and automatic tighteners it is tough to beat the Peerless Auto-Trac tire traction chain. They offer easy installation and a unique diamond pattern to help reduce the road noise. A budget friendly step below that is the Glacier 1046 Tire Chain.
Owners who want a softer solution should look hard at the Auto socks. Market leading technology presents a unique solution that suffers mostly by being non traditional. However these socks are tested technology that delivers top traction assistance in the easiest of carrying cases.
If you are unsure what tire chains to choose, consider starting with the Peerless Auto-Trac. It is one of the highest rated chains and has an easy installation process.