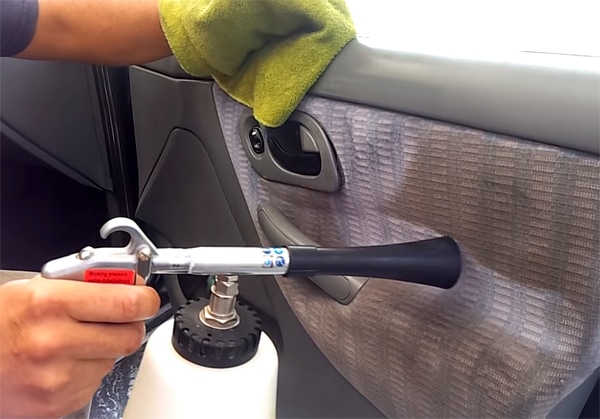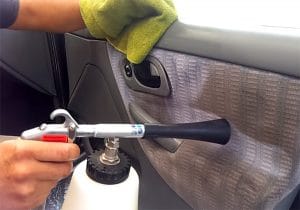 It's important to keep your vehicle clean both inside and out. In fact, removing dust, dirt, and grime will help preserve the integrity of your vehicle and make it a more enjoyable ride. While car washes and details can cost a hefty buck, pneumatic car washing devices offer a high-powered way to clean your car at home. Read along to discover the top four high-pressure car washing tool picks and dig into our compressive buying guide!
Image
Product

Editor's Pick




Fochutech

On-board Detergent: 1-liter foam detergent cannon
Water Pressure: 87 to 133 PSI
Cleaning Heads: Horn head with bristles
Warranty: No

Check on Amazon

Read Our Review

Low-Noise Car Cleaner




Tornado

On-board Detergent: 1-liter detergent storage
Water Pressure: 80 PSI
Cleaning Heads: Horn head
Warranty: No

Check on Amazon

Read Our Review

With the Best Nozzles




Apriling

On-board Detergent: 1-liter detergent storage
Water Pressure: 80 PSI
Cleaning Heads: Horn head, horn head with nylon bristles
Warranty: 100-percent moneyback guarantee

Check on Amazon

Read Our Review

Budget Pick




Umiwe

On-board Detergent: 1-liter detergent storage
Water Pressure: 60 PSI
Cleaning Heads: Horn head, horn head with bristles
Warranty: 12-month warranty

Check on Amazon

Read Our Review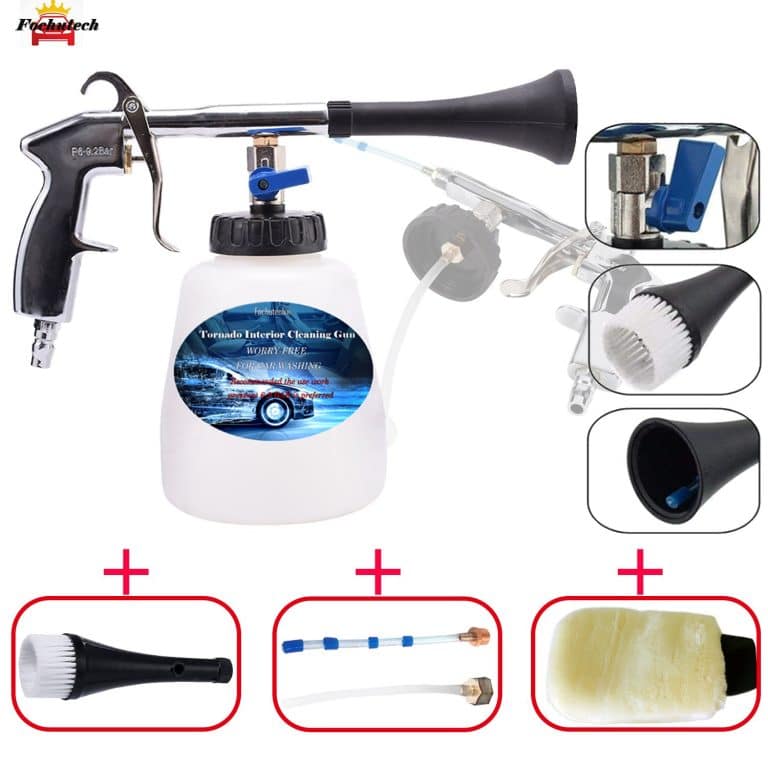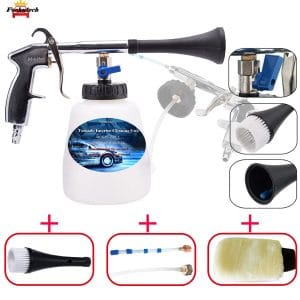 Sick of going to the car wash? The Fochutech cleaning gun and car wash kit will clean your car in four easy steps. It boats a high-pressured washing gun, an air-pulse spray nozzle, and a durable scrubbing head. What's more, kit even comes with several replacement parts, including hoses, a scrubbing head, and nonabrasive car wash mitt.
Multi-Purpose
While the Fochutech does an impressive job of cleaning a vehicle's exterior, it has many more skills in its repertoire. The miniature pneumatic air compressor can be used to spray water or air. As such, it can be used to remove dust and debris from the inside of a car. Not to mention, with the help of it you can clean a wide variety of vehicle surfaces, including upholstery, dashboards, carpets, and more.
Affordable and Efficient
For just over $39, you can have this high-powered car washing device. It produces an enormous amount of power, with a blast of water or air that can eradicate dust and dirt from deep within the crevices and hard-to-reach places in your car. It even gives you control of the power, enabling you to go from hosing of a grimy car to watering your plants!
On top of that, the Fochutech car washing kit is made of durable long-lasting materials, including thick plastic and aluminum alloy. It does not wear easily, nor does it produce a lot of air pollution. What's more, it barely produces any noise.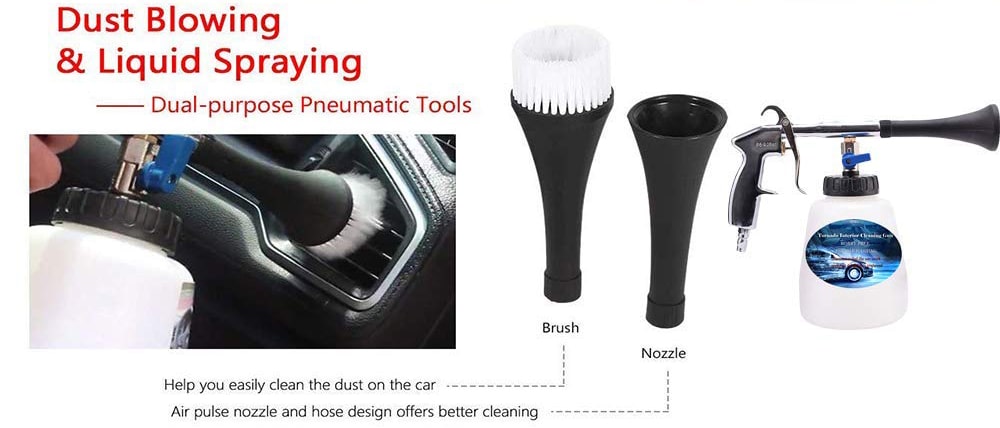 Pros
High-pressure water spray
Wet and dry cleaning
Eliminates the need to visit the car wash
Attaches to standard garden house
Comes with replacement parts
Includes car washing mitt
Inexpensive
Cons
Air compressor sold separately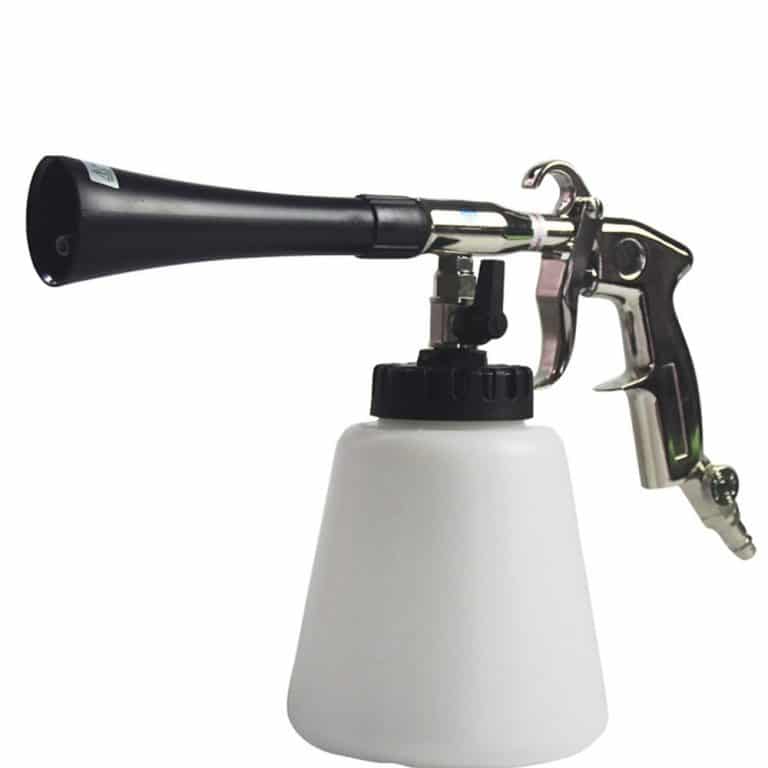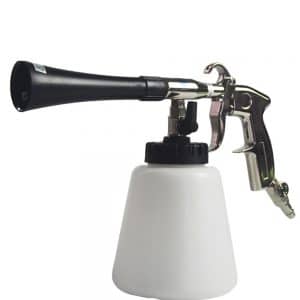 The Supercobe Black Edition Tornado Car cleaner boasts a large cone-shaped cleaning head that attaches to a 240-volt air compressor for a powerful at-home car cleaning session. Its durable aluminum alloys enable users to perform brutish cleaning tasks without having to worry about wear and tear. What's more, its minimal air consumption allows users to use a small air compressor rather than a bulky one that's difficult to lug around.
Double the Power of the Tornado
The Tornado Black Edition's predecessor, the Tornado, had already been extremely popular. However, this new and improved model offers twice as much power as before.
If you're looking for a cleaning tool that's super stable and boasts a long lifespan, this may be the one for you.
Quiet and Clean
We can't stress how important it was to find a quiet high-pressure cleaning tool. While most cleaning tools emitted loud roars, the Supercobe only produces a faint purr. Its quiet operation makes it easier for us to concentrate on the job at hand. Not to mention, it enables us to work on our car during odd hours without disturbing our neighbors.
Pros
Two times the power of the Supercobe Tornado
Easy to maintain
Made of durable aluminum alloy
Lower air consumption
Compatible with 240-volt air compressor
Low air emission
Super quiet
Cons
The manufacturer does not provide a PSI rating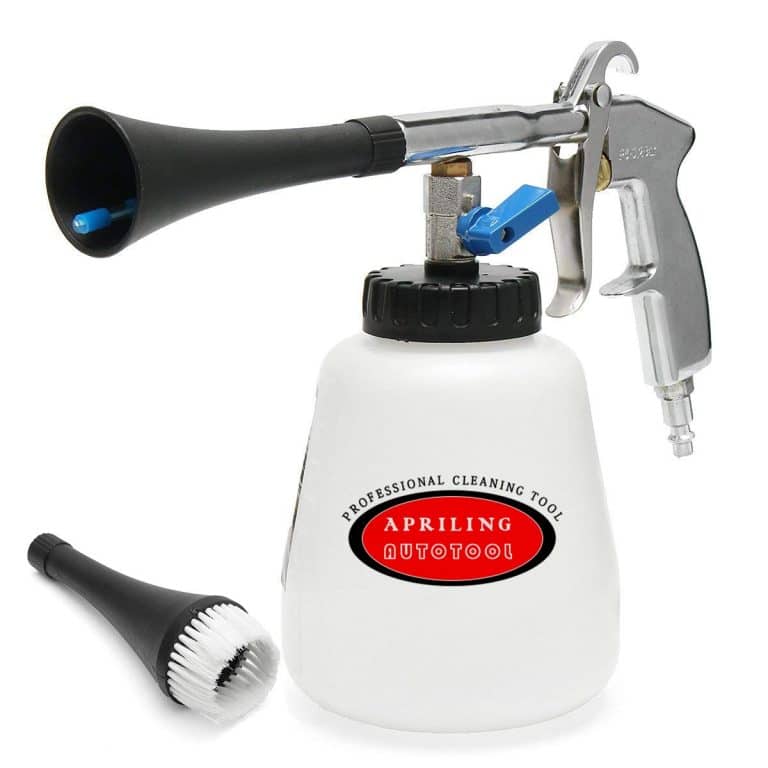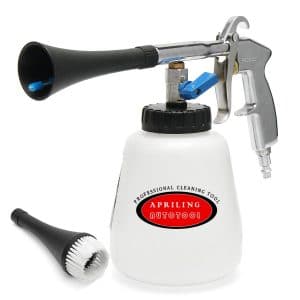 Last but certainly not least, the April Tornado car cleaner is a pneumatic wonder. The gun, which is made of long-lasting aluminum alloy, attaches to a one-liter detergent container and the cleaning head of your choice. The device boasts American connections that work with most low-powered air compressors. This device is both easy to use and maintain. What's more, it is designed to clean a wide variety of surfaces both in and out of your vehicle.
Cleans Everything!
This amazing high-pressure cleaner made it on to our list because of its wide application potential. You can literally use this device to clean every surface in your car, including your cup holders, upholstery, carpets, seat belt retractors, and so much more! Just attach the horn cleaning head and set to work eradicating deep-set dust and grime. Your passengers are bound to ask you where you had bought deltails for your vehicle.
Moneyback Guarantee
Apriling's generous moneyback guarantee takes the stress out of buying a product online. If you are unsatisfied with this product for any reason, you can contact the manufacturer for a full refund. Of course, customers can't seem to get enough of this versatile cleaning machine.
Pros
Includes multiple cleaning heads
Aluminum alloy handle
100-percent moneyback guarantee
High-powered wet and dry cleaning
High-strength nylon bristle cleaning heads
Can be used to clean a wide variety of surfaces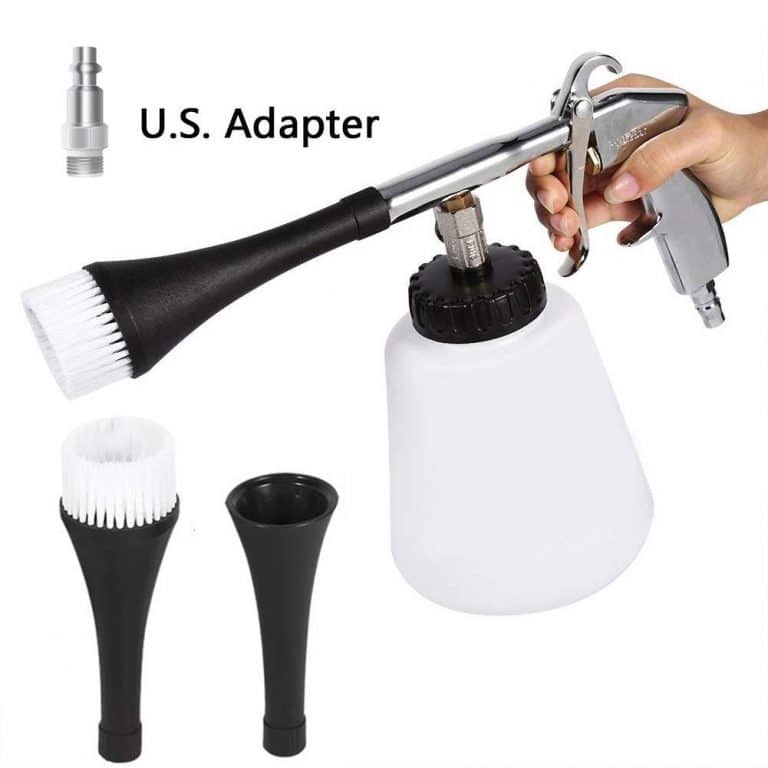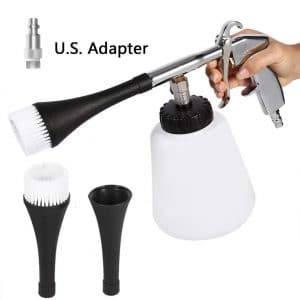 Customers can't get enough of the powerful Umiwe car cleaning gun. This impressive tool attaches to a small air compressor to efficently blast the dirt off of grimy vehicles. The kit comes with a number of cleaning heads, including a horned head and bristled horn head. What's more, it boasts a durable aluminum alloy handle, with a plastic canister and cleaning heads.
Cleaning Without the Hassle
If you're looking for a quiet cleaning device that is easy to use, look no further than the Umiwe car washing kit. Its sturdy construction prevents excess noise and rattling. On top of that, there is extremely low maintenance. In fact, all you need to do is rinse out the canister and scrub the connectors to keep it running smoothly for an extended period of time.
Clean Your Car From the Inside Out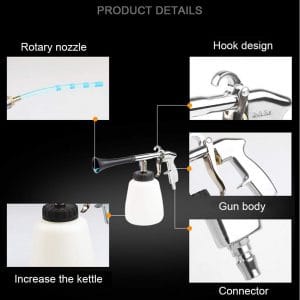 This powerful cleaning device isn't just for the exterior of your vehicle. In fact, the manufacturer suggests you use it on everything from fabric to leather upholstery. It's also great for cleaning cup holders, consoles, doors, and other hard-to-clean nooks and crannies. With the Umiwe, you can skip the expensive car detailing service and tidy up your car at home.
An adjustable valve enables you to use the Umiwe to clean with or without water. As such, this incredible device can even be used inside your house. According to the manufacturer, it's great for tidying up dusty appliances and home features. With plenty of positive customer reviews to solidify those claims, there is no doubt that the Umiwe is one of the best and most affordable high-pressure cleaning tools on the market.
Pros
U.S. adaptors
Durable aluminum alloy handle
Detergent and water container attaches to bottom
Minimal noise
Multiple clean tool attachments
Cons
Does not attach to garden hose for direct water
Car High-Pressure Cleaning Tools – Buyer's Guide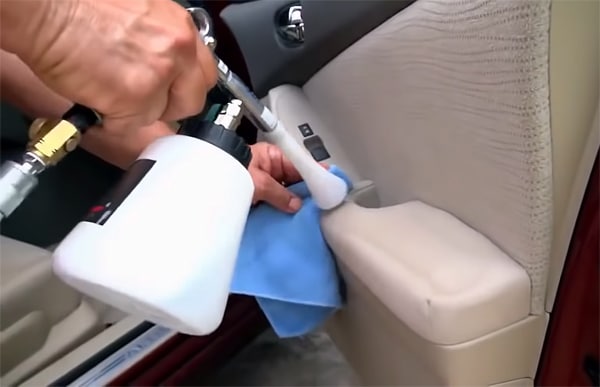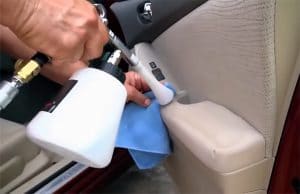 Are you wondering what the benefits of owning a vehicle pressure washer are? Are you looking for helpful tips and tricks on how to successfully pressure wash your vehicle? We've got everything you need to know about high-pressure car cleaning in the section below!
Benefits of Using a High-Pressure Cleaning Tool
Wonder if a high-pressure cleaning tool is worth the investment? There are a number of benefits to using a pressurized washer, including:
Efficiency
There's a reason most people go to car washes. Garden hoses can rarely bolster up enough power to overcome stuck-on dirt let alone the pine sap, bird poop, and all the other sticky materials that accumulate on the surfaces of the vehicles. What's more, interior upholstery, vents, and car carpets are magnets for messy substances.
Pressure washers enable vehicle owners to better clean these messes in a fraction of the time it would take to use a hose or sponge. In fact, you can probably pressure wash your entire car in the time it would normally take to fill a bucket with soap and water.
Cost-Effective
Believe it or not, you can save money by cleaning your car with a pressurized tool. After all, these incredible machines use a modest amount of water when compared to traditional hoses.
Not to mention, you can skip out on purchasing buckets, sponges, hoses, and more.
Multi-Use
While many pressurized cleaning tools are designed with vehicles in mind, that does need to be their only use. Get more bang for your buck by cleaning bikes, outdoor furniture, and other dirty household objects.
What to Look for in a High-Pressure Car Washer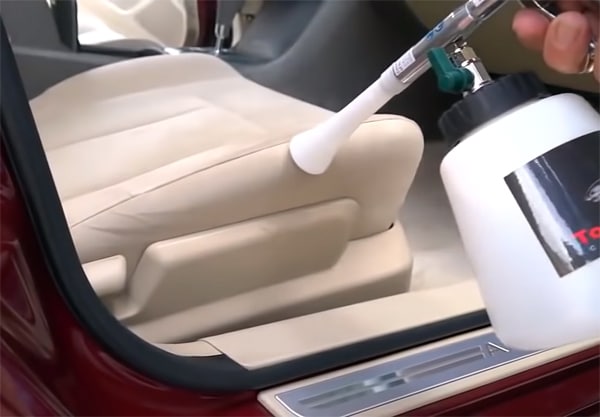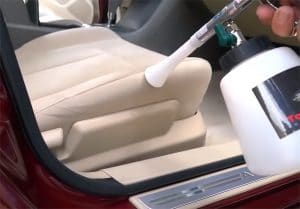 Compatibility
Most vehicle pressure washers are engineered to attach directly to a small air compressor. Some also attach to a garden hose in order to deliver high-pressure water. Others have a small plastic canister that is designed to hold detergents and/or water.
Pressure
Pressure washers shoot out water and air at impressive rates. This pressure is often measured in PSI, or pounds per square inch. Most washers have an adjustable nozzle or cut-off valve that enables users to control the intensity. With that said, you want to avoid washers with a PSI above 150, as this level of pressure can damage the paint and external components on your vehicle.
It's also important to pay attention to a cleaner's water flow. Water flow is measured in a unit of gallons per minute. Most pressure washers have a far smaller water flow than standard garden hoses. Nevertheless, they are far more powerful cleaners.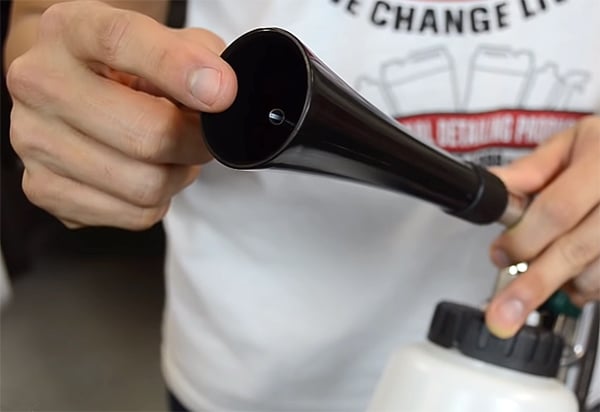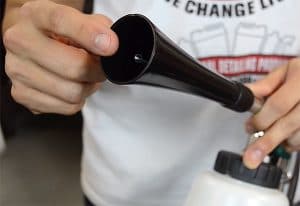 Nozzles
Pressure washers tend to have horn-shaped nozzles. This helps to create a narrow spray that's easy to direct. Some pressure washers come with an arsenal of interchangeable cleaning heads.
These enable users to create a custom spray. On top of that, some cleaning heads have bristles that help facilitate more detail-oriented cleaning sessions.
Keep in mind that nozzles with bristles are likely to wear out over time. Make sure you have the option to replace these nozzles if they are no longer functional.
Materials
It's important to ensure that your pressure washer is made of high-quality durable materials like aluminum or another metal. Not only do the washer's materials determine its longevity, but they are important to the safety of the users.
Settings
Look for a pressure washer that gives you control. You should have the option to adjust the device's pressure and switch between wet and dry cleaning settings.
Pressure Washing Tips and Tricks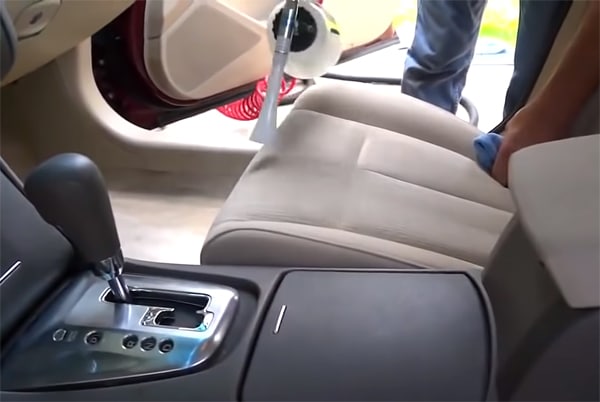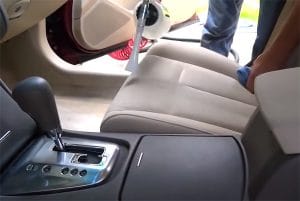 Use a gentle setting. Never set your pressure washer above 2,000 PSI, as this can result in subsequent damage to the paint and other elements.
Do not spray the windows, mirrors, antenna, or other fragile features. These are not designed to withstand excessive pressure.
Always rinse your vehicle before and after using detergent. Soap scum that is left behind has the potential to trap dirt. Make sure to thoroughly rinse the surface of your car before putting your washer away.
Always clean from the top down. What's more, tilt your pressure washer nozzle at a downward angle. This helps ensure that dirt and debris are pushed onto the ground rather than back at you.
Always wash your vehicle on a hard, solid surface. Loose stones and sand can bounce up and damage your vehicle.
Empty your detergent container when you've finished cleaning. Soap scum can clog up a cleaning tools` conduits and cause it to corrode at a rapid rate.
Choose an air compressor with a PSI between 1,200 and 1,900. Anything greater has the potential to damage your vehicle. Anything less may leave behind stubborn messes.
Avoid spraying inside the engine cavity. While it may be tempting to wash away grime under your hood, pressurized water can damage your vehicle's working components.
Pressure Washer Safety and Maintenance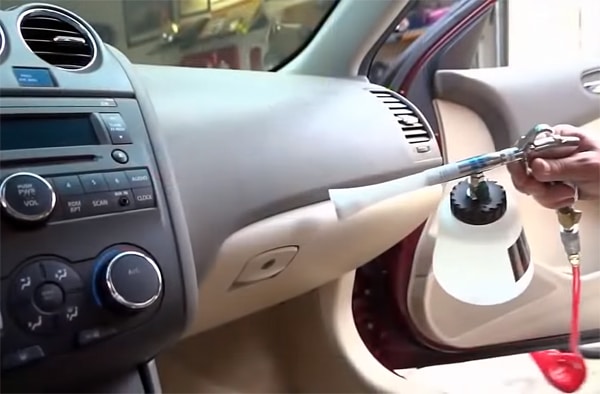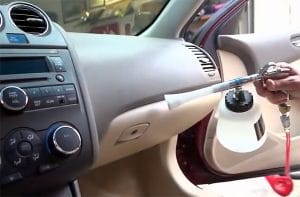 It's important to always follow proper safety protocols when using the pressure washers. These powerful machines wick away dust and grime with gusto. However, a misdirected spray can cause substantial injuries and damages.
Wear protective clothing, including the goggles, a long sleeve shirt, pants, and work gloves. Even if the pressure from the water isn't enough to cause bodily harm, dust and rocks can get lodged into the air. As such, it is particularly important to protect your eyes and skin.
Wear slip-resistant shoes. The pressure of the water can make it difficult to find adequate footing. What's more, the water and detergent often flood onto the ground, creating potentially hazardous conditions. Of course, this is true for any type of cleaning that requires a lot of water.
Keep electrical components out of the way. Water and electric currents are never a good mix. Make sure that your air compressor is engineered to handle exposure to wet conditions. If not, you'll want to do your best to protect it from spray.
Never expose a person or animal to a pressure washer's direct spray. High water pressure is extremely dangerous.
Stand at the appropriate distance. Check your tool's owner's manual for detailed instructions on how far away to spray. If you fail to restrict your distance, you could risk harming your vehicle or yourself.
Park away from foreign objects that could be damaged during a pressurized cleaning session.
Be mindful of your electric bill. Use an air compressor with a low wattage. You'll thank us, when you see your electricity consumption.
How to Wash Your Vehicle Exterior with a Pressure Washer
Park your vehicle on a clean flat surface. Be sure to roll up all the windows to prevent water from leaking inside.
Connect your washing device to your air compressor and/or hose. Be sure to keep the electrical wires out of the way of any potential spray.
Load the liquid canister with a diluted washing solution.
Spray your vehicle with water. Be sure to remove any loose surface debris before using a bristle nozzle.
Lather your car in detergent. Work your way from the top to the bottom. Be sure to clean the wheel wells last, as they often contain sand and stones that have the potential to latch on to a nozzle's bristles and scratch your vehicle's paint.
Allow the detergent mixture to sit on your car for around 5 minutes. This will help loosen any stuck-on grime.
Remove the detergent attachment and use water to rinse the surface of your vehicle.
Use a car washing mitt or sponge to hand wash delicate components that could be damaged by a powerful stream of water.
Dry the surface of your vehicle with a soft cloth or towel.
Repeat every two or three weeks, depending on the condition of your car. Don't let the weather deter you from cleansing your car. The salt and chemicals used on wintery roads have a habit of eating away at your vehicle's paint. Remember, regular car washes can dramatically extend your vehicle's life.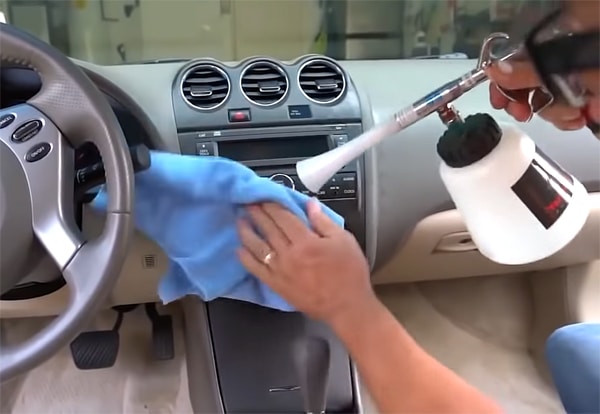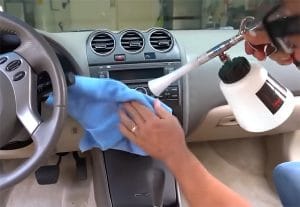 Final Thoughts
No vehicle owner should be without the benefits of a high-pressure car cleaning tool. These impressive cleaning devices make ordinary home car washing techniques seem obsolete. Pick up one of the amazing cleaning tools above and keep your car always looking like it rolled right out of the detail shop.