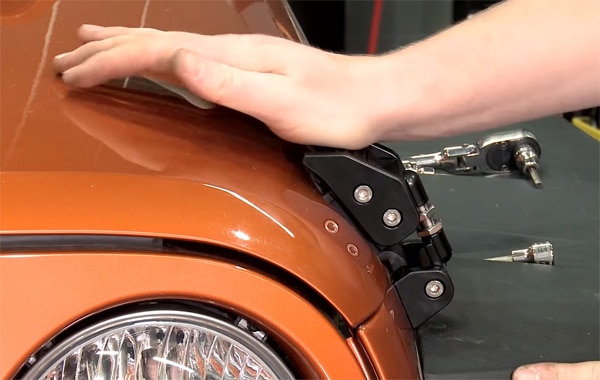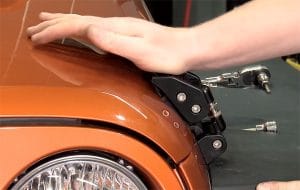 Have you noticed that your hood appears to move a bit when you're traveling down a road in your Jeep? If this is evident, then it might be time for you to switch or acquire a new hood latch, a part that allows for your hood to remain closed without movement during vehicle motion.
This is essential to preventing unwanted lifts from occurring when you're on the road, and could even double as a security feature that locks it shut from anyone attempting to open the engine. Hood latches are quite small but act as a sort of deadbolt for your front end, keeping it secure to where the brains of your Jeep are only accessible to you.
Upgrade Your Jeep's Front End with These Five Hood Latches
The five products below represent some of the best in the category and will make your ride look great and keep you focused on driving.
Physical Features
The RT-TCZ Black Stainless Steel Latch is one of a kind in that it won't suffer from sun or heat damage easily. You can use it in dry and hot conditions and not worry about anything breaking prior to its warranty being voided. If you like hood latches that are black but bold in their color and shape, this one keeps the look clean but doesn't overcomplicate things.
Its shape is one you've probably seen before on other Jeeps, and that's not a bad thing at all. The interior consists of aluminum alloy and steel as well, which elevates its durability; having a design that shields against rust from developing into the inside and outer areas is an important quality not found on all hood latches.
Tools Required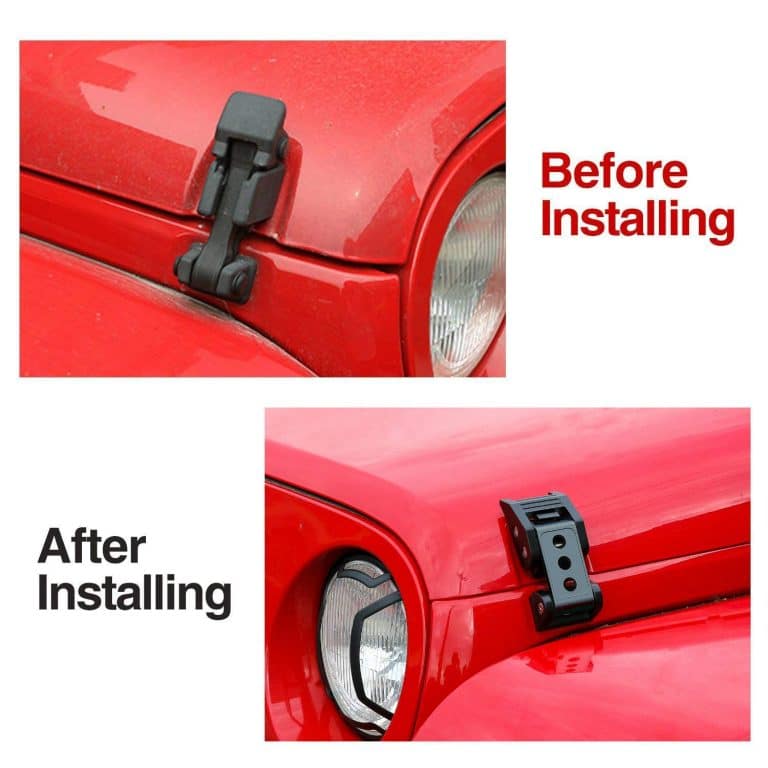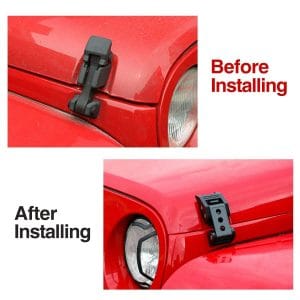 There's no drilling needed in order for you to get the latch placed on your Jeep fast. You should be able to have setup completed in as little as an hour or two at most. Your hood will hold firmly in place while travelling, becoming so still that you'll quickly forget that the latch is there in the first place. The entire set comes with three Allen wrenches too, so you won't have to go out and purchase more except for sockets that consist of a 13 and 10-millimeter diameter.
You may also need to cut the latch in order for it to fit well, but this is an exception for most people. There are no washers sold with the product. Overall, the RT-TCZ is a great buy for anyone with a JK JKU Wrangler between 2007 and 2017, so give it consideration if you own a model in this grouping.
Pros
Not susceptible to sun and surface damage; heat and scratch-resistant
Its aluminum alloy and stainless steel construction lasts years without damaging early in its lifespan
No drilling or lengthy installation process required to get it attached to a Jeep
The latch stays attached to the hood when it's opened, ensuring that it stays closed if it were to come open unexpectedly
Three Allen wrenches are included with the product
Cons
The latch may need cutting for it to fit onto the locking mechanism securely
Instructions do not specify what size sockets are needed for assembly (10 and 13-millimeter sockets)
No washers are given with the product, needed in order to prevent rust buildup and potential scratches (to the vehicle)
Lightweight but Durable
The Anzio Hood Lock is great for those who want an even more rugged look than what the previous product gives. The appearance is lighter and consists of steel cabled that is resistant to heat and sun damage, even when exposed to direct sunlight for a lengthy period.
This helps it last for a long time without showing signs of corrosive damage after months or even longer. Your hood will hold in place as you go down the highway at high speed, and that included in excess of 60 miles per higher over more. No flutter will be detected, and you'll like how it doesn't cause the rivets or nut to loosen during those fast drives.
Following the Directions
Keep in mind that its strength lies in the cables, not the latches themselves. While they are powerful too, the thinner material is likely to damage at some point, depending on the region in which you live.
And the instruction manual, while decent, could certainly be improved by better explanations that are easier to follow. This is particularly of concern to those who have never installed a new hood latch before. While it's not a main problem, the result could lead to an improperly screwing in the latch as it's supposed to be done. Other than this, the Anzio remains a great product for anyone to use and will bolster the look at any Jeep that it's compatible with.
Pros
The steel cables are UV resistant and shielded against early corrosion
Jeep hoods remain still at high speeds; no hood flutter will occur
Visually appealing design that gives Jeeps a rugged yet modern style
Cons
The hood latches, unlike the rest of the set, may break easily
The chances of rust developing on the latches increases in rainy or humid environments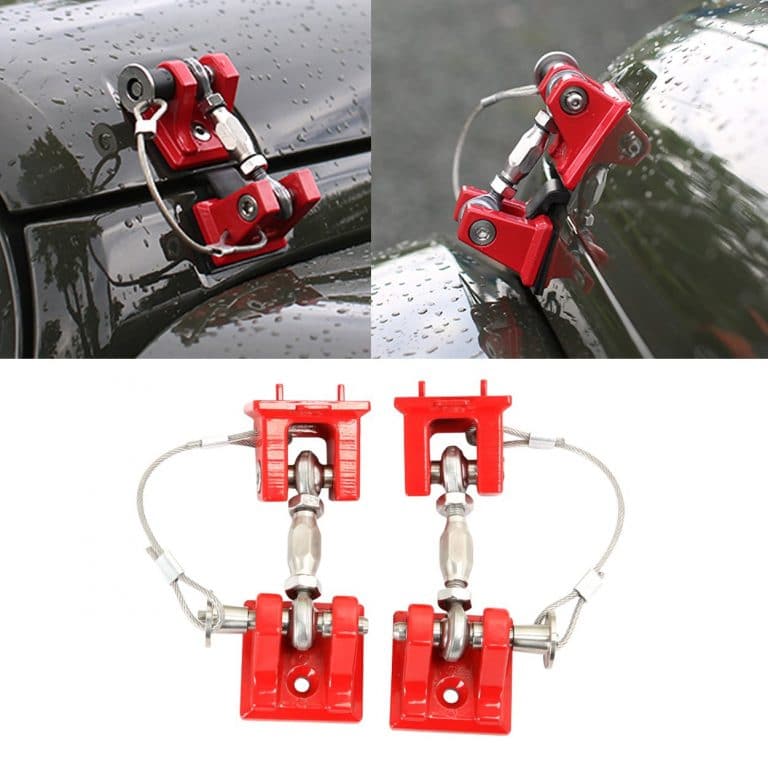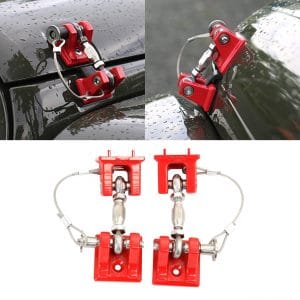 The American Modified Latch Lock is well-suited for anyone who likes a more exposed appearance. And this product does it the right way, having red-colored exterior pieces that hold the latch. These are made of ABS plastic and aluminum which make it less bulky but functional all the same.
The plastic allows for better adjustability and doesn't rust. As for the red, it's very unique and has a better style than a black hue. It also won't chip, peel, or fade from heat and UV exposure either. Bouncing is kept in control and the hood will stay firmly in place, as it should.
Lack of Instructions
There's no instruction manual given with this hood latch. It's not too difficult to do by yourself but it would have been nice to have it included nonetheless. Still, the latch is still recommended, especially if you're in need of one that isn't solid black.
Pros
Made from hardened ABS plastic that's strong and highly adjustable
Drilling holes are unnecessary
The red color gives a unique look compared to the black standard seen on other latches
Doesn't fade or chip away
Prevents the annoying bouncing that's common during highway cruises
Cons
Sold with no setup manual
Small risk of getting mismatched laches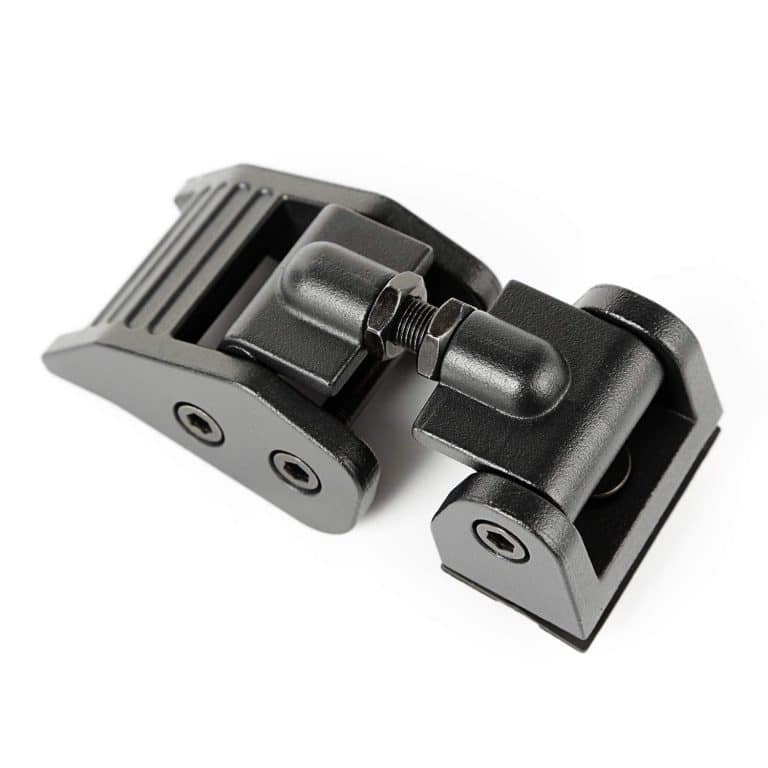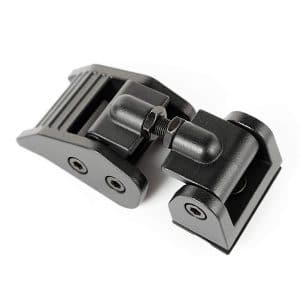 The Rugged Ridge has three different colors for you to pick from, ranging from matte black, solid black, and silver. The material is aluminum and has the look of a traditional hood latch but with slight modernity at the same time.
The colors, while a major selling point, don't cause its easy instruction to be overshadowed. You can have it placed on your vehicle in about an hour tops. Nothing will age fast, and it's guaranteed that you'll have this on your Jeep for quite some time.
Drawback – Unclear Manual
One major area of concern is the instruction manual, which doesn't list the proper tools that one would need to finish the installation. It's a little odd, especially since those familiar with hood latches can get it finished so fast. If you have an Allen wrench and socket set, be sure to get one before you begin setup. And the plastic catch could loosen as well, so be sure that all parts are secured to the Jeep well before you set off.
Pros
Sold in three distinct colors
Can be installed in under one hour
Material nullifies dry rotting and damage from outdoor exposure
Cons
The lever sits very close to the hood, which could cause damages if touched
The instruction manual doesn't show where to place the washers during assembly (must be placed to the rear of the nuts)
The plastic catch may break off easily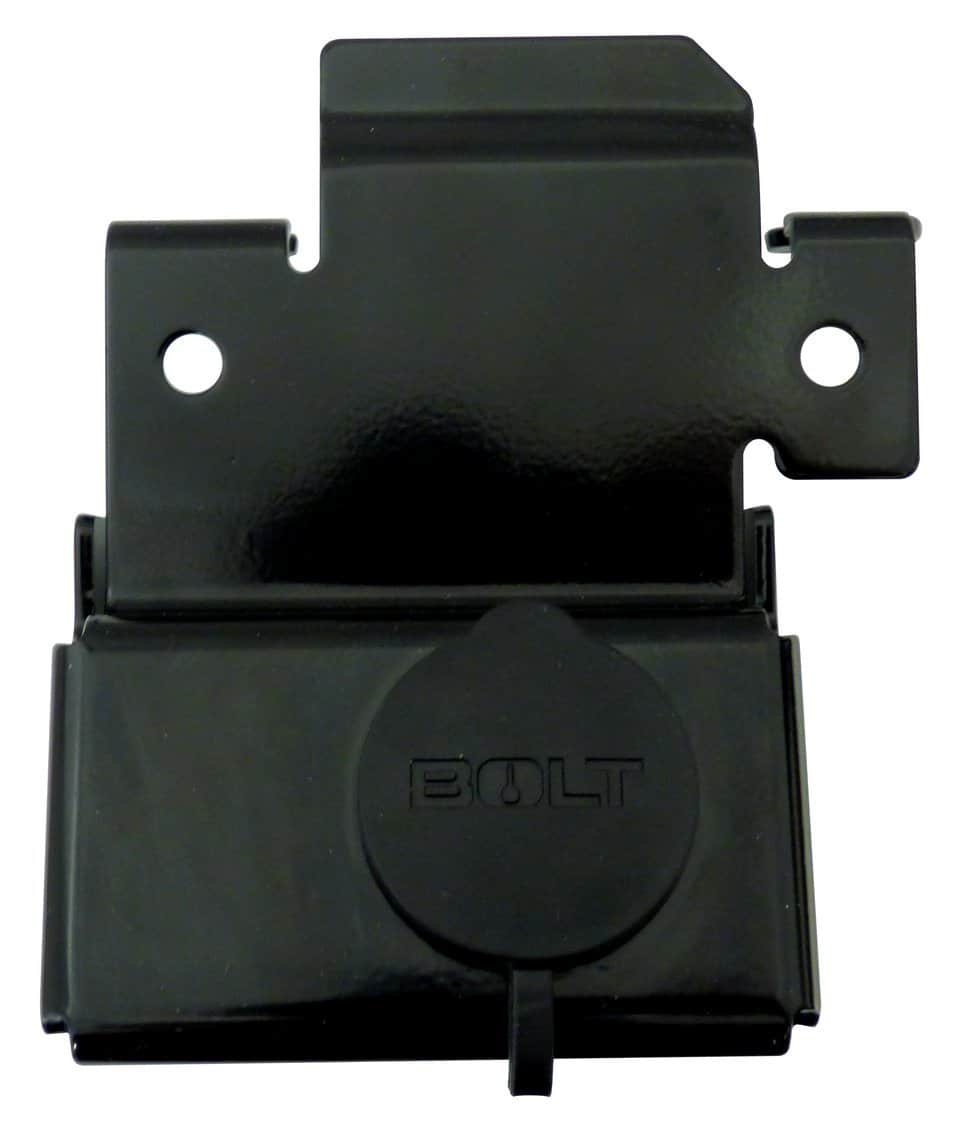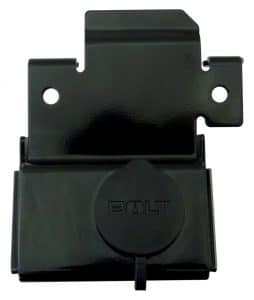 The last product, Bolt 7026128, is small and black. This is a hood lock that works with your Jeep's keys. You won't have to worry about putting an extra key on your rings, so whenever you want your hood to remain shut and locked, just turn it into the slot that's fitted on the product itself.
You can place it on pre-existing latches too, so setup time is relatively short. While there are instructions provided, you might not need them to do this since it's fairly straightforward.
Little Mechanical Difficulties
The biggest flaw is the fact that you can only open the latch with your own key, which means that you must turn off your vehicle in order to do it. If this doesn't sound like something that will bother you, then the Bolt could be a good alternative to getting an ordinary hood latch.
Pros
Can be placed secured into already existing hold from previously installed factory laches
Can be installed without needing instructions (a manual is provided in the box regardless)
Cons
The hood opens only when the ignition key is placed in the grille slot
Enough space remains for anyone to reach the latch inside of the hood to open while it's locked (unless the rivets are fastened well)
Unless a 1/4-inch rivet gun or handheld riveter is used to install, the rivets themselves may not screw tightly
Jeep Hood Latches – Buyer's Guide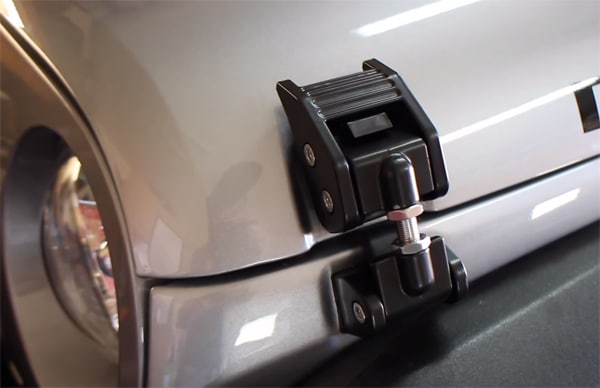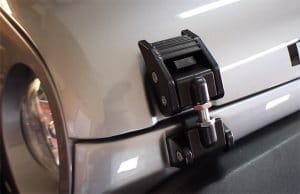 Finding a good hood latch for your Jeep shouldn't be made difficult. Unfortunately, this is sometimes the case, even when purchasing from a physical store location. Because of this, many Jeep owners have turned to those available online, as some of the best brands around can be acquired much easier than risking a swift return of a product at your local shop. The tips below will help you better choose a style that's perfect for your ride.
Make Sure to Pick the Right Latch for Your Jeep
Jeep latches come in many different shapes, but most consist of aluminum or steel within their frame and interior pieces. They are usually sold with at least some or all of the tools that are required to install them to the front of vehicles. You could place any of those shown in the reviews on your Jeep, but some could be better suited for your hood than others.
There's no secret in this regard; the best choice for you weighs heavily on what you prefer and what you think will look best on your ride.
Most people pick styles and colors that match the Jeep itself, which could range from bold to rugged. Go with what you think will hold up better, or those which are easier to install on your own.
Style over Substance
As mentioned, hood latches primary purpose is to protect your Jeep from lifting while on the road, and in some cases preventing unwanted opening of the vehicle with you're not around.
But appearance does play an important part in how consumers gravitate towards a model.
The best brands tend to have great physical characteristics, along with decent to outstanding durability that won't scratch anything or come apart after the first few months of installation. If you like black, your options broaden significantly. Most of them consist of this color but there are a few chrome or aluminum plated brands that really stand out from the rest. You'll want to find one that blends well with the front of the Jeep and won't give off a tacky impression.
Assembly and Tools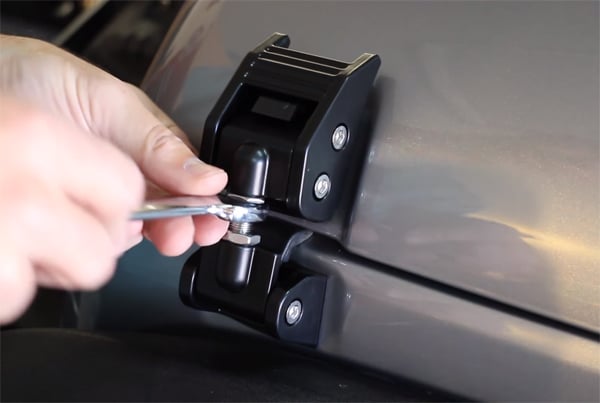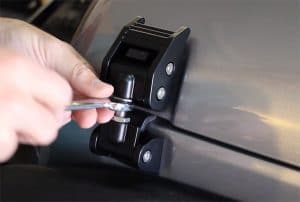 Putting the hood latch on your Jeep can either be an easy or nuisance. Most models, including many of those reviewed earlier, will not require you to drill any holes to finish an install. You should be able to use the area of a previously existing hood latch if you want.
Others may require you to do some minor tinkering or even shaving to get it at a decent fit that won't have it brush up against the exterior of your Jeep when in motion. Look to see if the product comes with additional tools to help you get it done. If there is more needed, it'll likely to be washers or a riveter of some sort. You could also substitute that with a rivet gun, which will allow the rivets to be secured tightly without wobbling or falling off over time.
Prioritizing Performance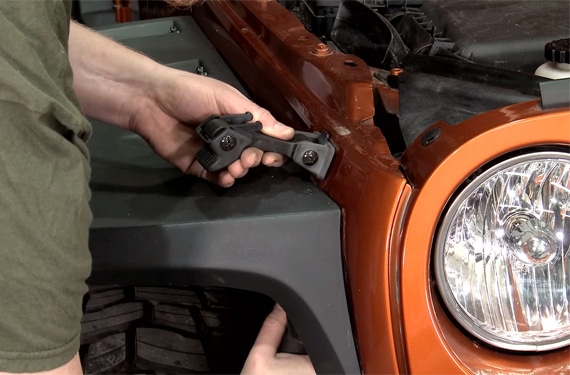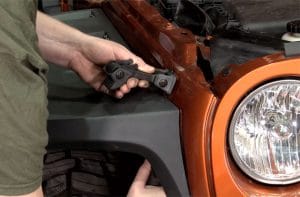 A good hood latch will prevent any of the annoying bouncing along the hood from occurring when you're going at a fast rate of speed in a Jeep. This is often a big problem for those who travel on highways or other stretches of road that necessitate a speed of over 50 miles per hour.
Brands that are well secured will generally forbid you from reaching into the hood on your own, or have enough space in between the bumper or hood but not enough for it to wobble when you attempt to move it. Poor-quality models are sometimes very sensitive to the elements and will scratch and fall apart early in their lifetime. These may also produce marks around the area where it sits, so be sure to check out any photos or videos, where you can see how it will appear before you settle on one product, preferably one that has the same Jeep model as you own.
Common Issues
As noted, scratching is the most serious issue that you would have to deal with, but is likely to never happen, so long as the latch is secured and fastened to the hood properly, and you install with all the correct parts.

Chris Robson
Auto Mechanic
Pro Tip:Washers, the small bits that go in between the nuts and the steel pieces, must be placed in their proper position. If not, you'll quickly see that the area where they are supposed to be has become damaged from rubbing against your Jeep when it prevented the hood from wobbling. If you don't want to use the old nuts from an earlier model, remember to purchase them (and the washers, if not included) at the same time that you acquire a hood latch. For more information, just look at the product's description and observe whether or not they provide these items with the latch you want to buy.
Instructions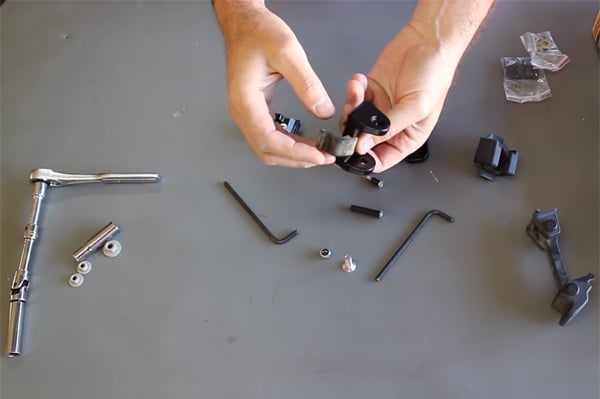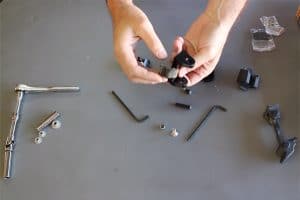 Hood latch instruction manuals sometimes have a reputation for being difficult to follow, though this isn't always the case. Problems often lie in the directions not mentioning specific parts that should be named during the steps required to complete assembly.
If you think there's a piece that isn't included with the steps, you could either search online for an alternative tutorial or go with what you know (assuming that you're familiar with the construction of the hood latches and the parts they require). If your instruction manual appears incomplete, you could also call up the manufacturer and ask for additional tips and/or suggestions, making sure to point out your concerns. You don't want an imperfect latch on your hood!
Hood Latch Benefits
The main advantage of hood latches is the prevention of unwanted lifting of your hood, which can be a problem for Jeep owners, as the front could become open if not for the proper components being placed on the vehicle to prevent it.
Not only would it be extremely annoying to have your hood fly open as you're driving, but could create a potential accident involving other drivers. They also help bring more depth to the overall look of Jeeps and give it a unique style that the brand has become synonymous for: ruggedness and versatility. Some brands even have their own ignition, whereby the hood must be opened with a key in order for it to be lifted. Their stainless steel construction will last long, as holds up well under both hot and cold weather conditions.
Hood latches are as much a part of Jeeps as the brand's 4WD features.
Conclusion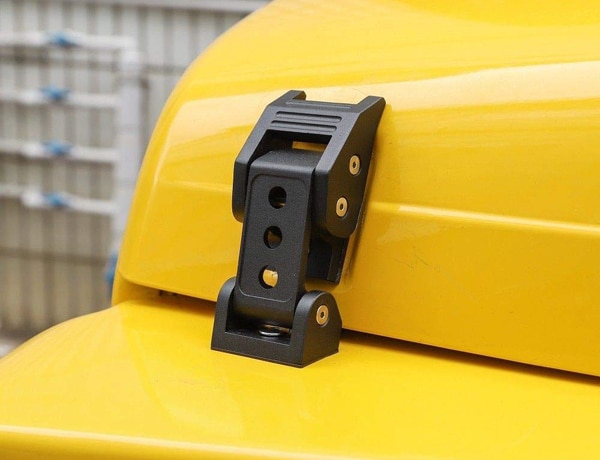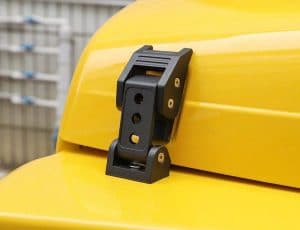 Try not to make your search for a hood latch any more difficult than it has to be. All of those that were reviewed have many great features and collectively are suggested for you to try. However, there are two brands that stand out among the others, which are the RT-TCZ and Anzio Hood Lock. But before you settle on those, give the others a chance as well by re-evaluating their specs and appearance.
They may look and perform better on your hood than those ranked as the highest. Whatever hood latch you get, it's assured that your front will look better and hold in place no matter what type of terrain you drive it on. And for this alone, hood latches can be essential to completing your Jeep's style and feeling of strength and adventure.