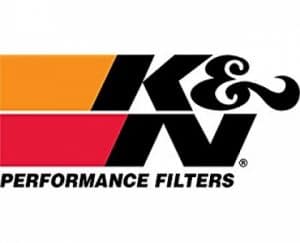 K&N is a fairly small name compared to the big players in the automotive filter market (such as Mobil 1 or Castrol). Despite this, they make some quality products and have been in the industry for about as long as the big names. Let's first take a short look into the company itself and its brief history.

K&N — Short Overview
Despite its relatively minnow status, K&N has a long history in the automotive spectrum. It was founded in 1969 in Riverside, California, and has since branched out into multiple continents, boasting facilities in England, China, and the Netherlands.
The name K&N comes from the names of the two founders: Ken Johnson and Norm McDonald.
In its early days, the company was the brainchild of the founders' occupation at the time—the sale of motorcycles and motorcycle parts as well as the support of their own K&N race team.
Soon enough, air filters became their main focus. In the late 80s, Ken and Norm developed a bolt-on air filter system to replace factory parts, and found great potential for the future of the company. Eventually, they began branching out into developing more parts, starting with their oil filter design. The reception was quite positive, as their design allowed for easy installation with basic tools. Much like Mobil 1, they stamped their involvement in the racing scene throughout their history, participating in various events such as NASCAR.
Similarly to other brands in the industry, they are involved in the development of parts for a wide variety of vehicles. Beginning with motorcycles, they developed parts for a long list of vehicles: cars, SUVs, trucks, ATVs, UTVs, snowmobiles, boats, heavy duty trucks, farm equipment, and even outdoor power tools like lawnmowers. Needless to say, K&N has a foothold all over the automotive industry; however, with such a range of products, it is possible to struggle to maintain consistent quality across the board, so the question is clear: do K&N products hold up compared to its competitors?
K&N Products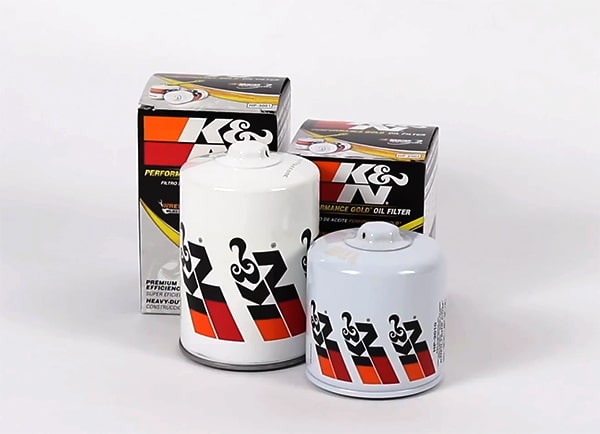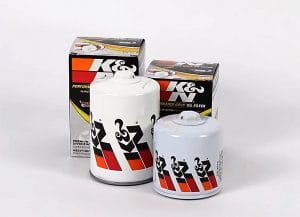 As stated before, K&N found their start in manufacturing motorcycle parts, specifically air filters. The company itself states that their brand "has been synonymous with performance since its inception". They manufacture primarily high-flow air filters and performance oil filters, with the goal of helping cars run at peak performance. In fact, their product line is very diverse and versatile, giving drivers a great deal of choice when it comes to accessorizing their vehicle.
For example, K&N offers a Throttle Control Module as part of its range of accessories. This highly specific car part outlines how dedicated K&N is as a brand towards optimizing any and all aspects of automotion. The module itself is designed to optimize throttle response and acceleration, and is adjustable at any moment. Another example is the Boost Control Module, whose purpose is to increase boost and horsepower through the hardware alone. Finally, the Electronic Carburetor Injection system aids in efficient cold starts by helping maintain air-to-fuel ratios chosen by the driver. K&N offers a multitude of other products as specific as these, so it comes as no surprise that they are still an active player on the market.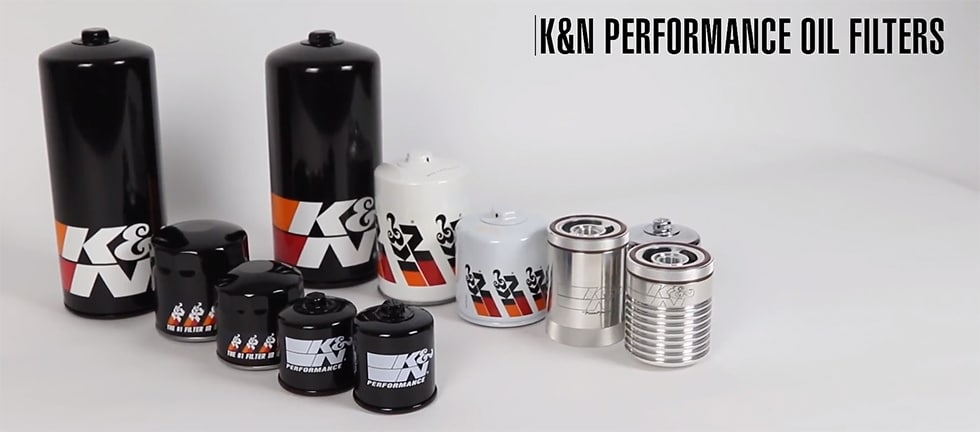 Generally, the wider the product range, the more difficult it gets to release consistently quality products. Unfortunately, K&N has indeed faced criticism in the past aimed at their air filters. Despite their claims about their air filters boasting an intricate and solid design, one that "keeps water and extra fine silt from clogging your filter", a 3rd-party test in 2008 concluded otherwise. Specifically, K&N's cotton gauze filters performed very poorly, letting more dirt into the engine than even factory paper filters. Additionally, they are prone to getting clogged as more and more particles filter into the system, restricting the car itself.
All in all, the picture is quite murky. On the one hand, K&N has been in the market for half a century and consistently releases a versatile and diverse product line for all sorts of applications. On the other hand, the wide range of products might be taking a dent into their quality, as demonstrated by a 2008 test of their air filters. Despite this, their oil filters seem to have no large-scale controversy surrounding them, so perhaps they are top-of-the-line in that regard—let's find out.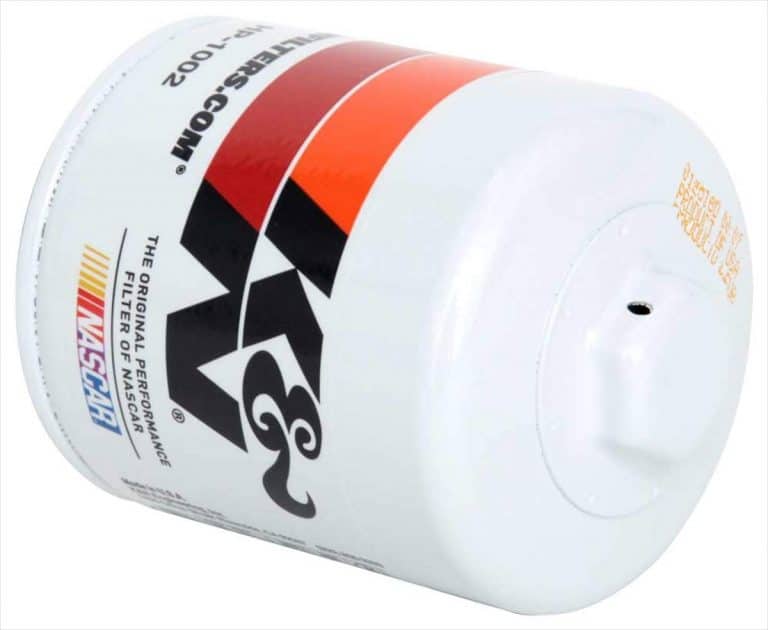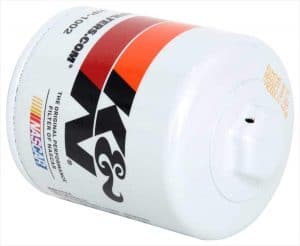 The thing about K&N products is their universality. For example, Mobil 1 oil filters are typically made for a specific set of vehicles and models. Meanwhile, the HP-1002 oil filter is specifically marketed as an O/E replacement for most cars, trucks, SUVs, motorcycles, and ATVs. With such a variety, one can only wonder how it holds up across the board.
Easy Installation and Management
It is advertised as an easy-to-install and remove accessory, thanks to its 1-inch exposed nut design. This claim is, unsurprisingly, supported by reviewers. Any oil filter that is available for such a massive line of vehicles can be expected to be universal in its installation and removal, and it does not disappoint.
On multiple occasions, buyers were very pleased with how easy it is to get on/off in a pinch.
Others also note the perfect fit and even recommend it specifically for this reason. All in all, it holds up in its quest to be a universally sound product.
Mixed Performance
Despite its accessibility and user-friendly design, the reviews regarding its longevity and performance are mixed. While an overwhelming number of buyers stand by its functionality—saying, for example, that it "has been maintaining its seal with no leaks"—others are not so happy. One reviewer said he would leave it zero stars if he could, as it almost immediately had the problem of leaking. Another buyer was less harsh in his criticism, but also noted that leakage was a common issue. Out of the five HP-1002 filters that he installed in his vehicles, two began leaking a while after installation, while one leaked severely as soon as the engine was turned on.
Despite leakage being a relatively common issue, there are hundreds of other buyers that swear by it. Some even go as far as to say that this is the only filter they buy for their vehicles, citing its easy removal, tight fit, and clean performance. In terms of mileage and performance, many drivers recommend Mobil 1 synthetic oil to pair with this product. On the best end of the spectrum, buyers get up to 10,000 miles with no issues with this combination, and laud its easy tightening/loosening with the nut mechanism.
Regarding leaks, one happy customer noted that it is possible that users with the issue weren't tightening their filter enough, so take the complaints with a pinch of salt.
All in all, this is a solid filter in most ways. It doesn't break the bank more than a typical filter on the market, and has the very well-received bonus of being extremely easy to install and adjust. On top of that, its performance and longevity are supported by many happy buyers. Despite this, many drivers complain about common leakage, so that is one thing to watch out for.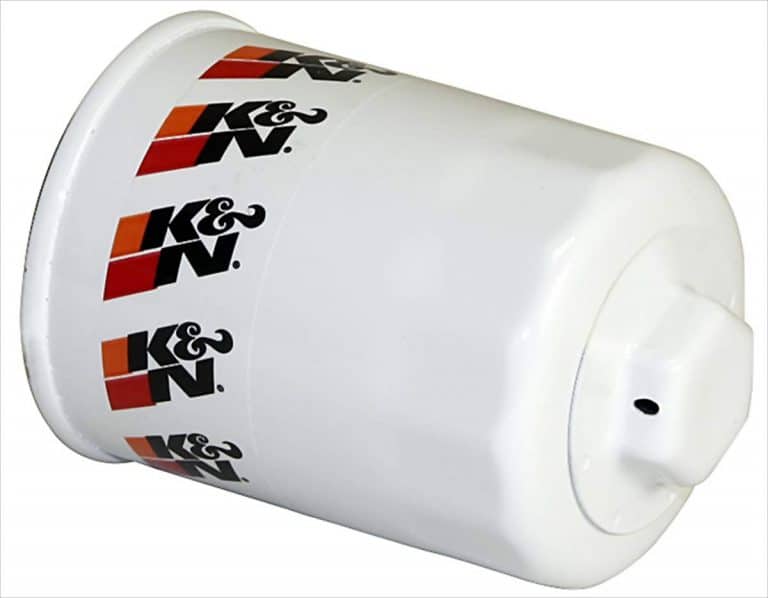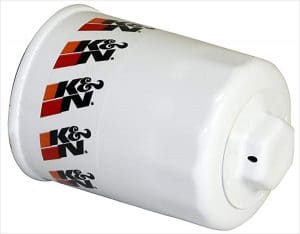 The description, specifications, and design of the HP-1010 is practically identical to the 1002 model we looked at previously. However, the same problems that plagued the previous product on occasion seem to be more pronounced with this one. Before we get to the bad, let's assess the good.
Efficient and Easy
Just like its sister model, the HP-1010's nut design means it is extremely easy to install and remove—no filter wrench required. In most vehicles, it is a snug and accessible fit, eliminating any maintenance/installation hassle. In addition, the nut allows you to tighten it for the desired effect, adding a small side of customizability.
Finally, many buyers were quite happy with the mileage they got from this filter, requiring an oil change only every 5,000-10,000 miles. Like the previous model, many users recommended the combination of Mobil 1 synthetic oil with the K&N filters for smooth performance.
Messy and Leaky
The HP-1002 model also had issues with leakage, but this new model is quite a ways more problematic for buyers in that regard. The complaints about this filter are mostly aimed at the leaky nature of the top of the accessory, but there are a few others. Firstly, the main defect that seems to be very common with this model is the unsecure underside of the nut. Despite making life very easy in terms of installation, it seems to be a huge problem when it comes to secure performance.
One buyer had the most telling experience. They bought three of these filters based on reviews and price, but was shocked to find that before the filter reached the half-way mark for oil life, it began leaking from the nut at the top. If that wasn't bad enough, the user added that he could not unscrew the nut whatever he did; neither a regular wrench nor an oil wrench would work due to the rounded nature of the nut. They were so displeased that they trashed the other filters immediately. Another user's filter couldn't withstand colder weather and began rusting. Soon enough, it caused an oil leak from the top; the user hadn't even used the wrench portion of the filter. There are countless tales just like these of the filter failing and leaking oil from underneath the nut.
In fact, there are some complaints about the integrity of the nut itself.
Time and time again, users would complain about the flimsy construction of the nut; as one buyer aptly noted, "it's like the nut is made of tinfoil," referencing how their nut buckled under the pressure of the wrench. In a similar vein, a few buyers noticed that, despite being advertised as made in the USA, the filters were made in Korea. Overall, there seems to be something significant that differentiates this model from the HP-1002, as there are far more negative experiences with this product. Unfortunately, this is too risky a purchase compared to other filters available at this price.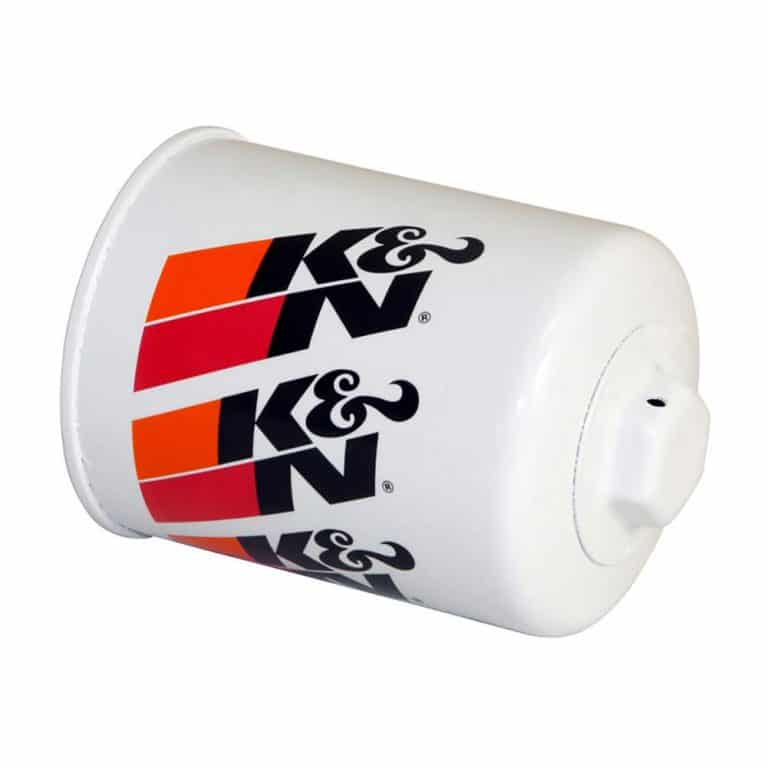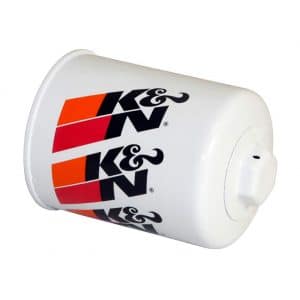 This K&N filter is just like the other two in this short list in a multitude of ways. One striking difference is its size: it is slightly longer than the other two. Otherwise, it is manufactured to serve the same purpose, and depending on who you ask, does its job well. However, it is still followed with complaints, similarly to the previous model. Let's take a look.
Design
Like the previous two, it is designed with a nut at the top for easy installation and removal. It also follows the pattern of being fitted with resin-impregnated cellulose media to effectively filter out dirt and grime. Like the others, it also has a drilled hole near the nut for a wire safety attachment. All in all, the positives are the same: buyers with good experiences are quite pleased with the durability, efficiency, and very easy installation boasted by this filter.
In fact, it seems that the wrench-off nut is the signature feature of K&N products, and one that buyers enjoyed the most. Generally speaking, it had more good reviews from buyers than the previous model, and they mostly echo the same sentiment: good filter, easy installation, will buy again.
Manufacturing and Shipping Issues
Unfortunately, this model seemed to have some unique problems with it to go along with the same common features of the K&P filters. First of all, some buyers still had the issue of leaking. To top it off, one angry customer was under the impression that it would fit their truck. Not only did it not, but it leaked oil everywhere and almost caused engine failure. To put it into perspective, this buyer had nothing but good experiences with K&N products in the past, but this one simply did not live up to that standard. Needless to say, this leakage issue could prove devastating if it goes very wrong.
On the other side of the coin, remember how the previous filters were often made in Korea and not the US? Many customers were outraged to find that their filter was, in fact, manufactured in Mexico, leading to a lighter product and a frustratingly flimsy nut. Not only is it deceptive advertising, but it makes people pay for a cheaper product than they expected. To add to this, some buyers got a clearly used or defective product in their shipment (but this could just be a problem from the shipper's side). All in all, most reviews are positive and it's possible that there was one bad batch (or several) leading to the poor reviews. Either way, it might not be worth the risk.
Conclusion
If you're looking for a quality oil filter, K&N is definitely one of the brands to consider.
Its quality and standing in the industry makes it a decent choice 90% of the time.
However, there are some occasions where the 10% is simply too much of a risk. Let's begin by summarizing the filters we reviewed.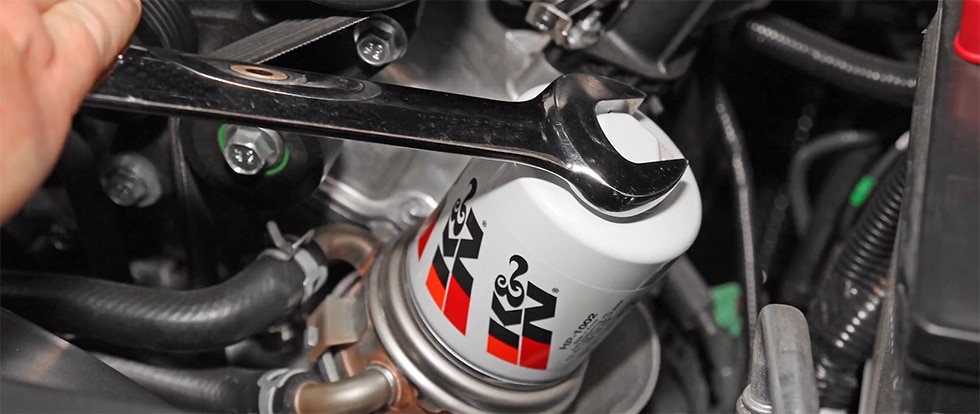 HP-1002
The HP-1002 turned out to be the least disappointing of the three filters we looked at. It was easy to install and remove, but had the rare problem of leakage. Generally speaking, buyers were very pleased with the product, and complaints were by and large uncommon. It is always something to consider, though.
HP-1010
The HP-1010, on the other hand, had a far more common issue regarding leaks. In fact, it was practically the defining feature of the complaints levied against it. In terms of performance, it was still a solid choice, but the risk of leaking seems to be greater than the previous model. In addition, at the very least some of the models are made in Korea and not the USA, lending it a little flimsiness.
HP-2009
Like the 1010 version, the HP-2009 was also very prone to leaks. Also like the HP-1010, they seemed to have changed manufacturing locations either temporarily or permanently to Mexico, making the construction more malleable and lightweight. There were also some shipment issues (specifically with Amazon), leading people to think the seller was selling off defective models.
Problems With the K&P Line
At a glance, it's clear what the main issues are with the HP line of filters. They are snug, easy to install, and generally reliable, but the leakage can put anyone off. However, to make sure you limit potential issues, make sure to buy them in-store and check that your vehicle isn't prone to issues with the filter. After all, these problems might be a result of the product line's "it fits all vehicles" slogan, and not with the product itself. Buying them in a store also allows you to check its soundness before buying a defective product. With these things in mind, you could be on your way to using a K&P oil filter with no issues.
Conclusion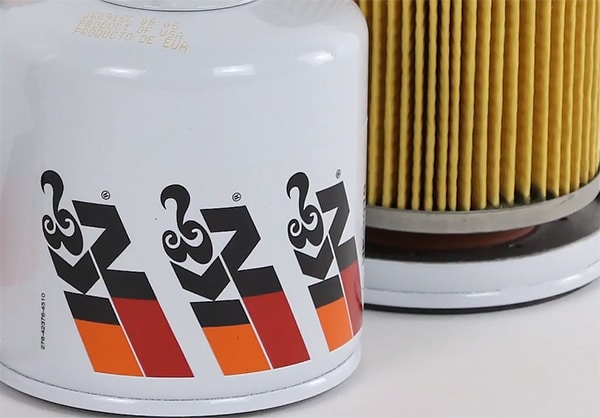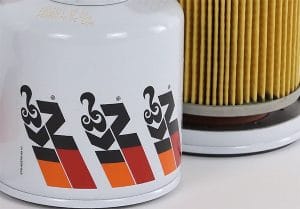 The oil filters we assessed are pretty hit or miss to say the least. Around 80-90% of reviews were very positive, and painted the picture of an easy to install filter that keeps up with competitors. However, occasional problems ranging from item quality to leakage make this line of filters a riskier purchase than they deserve to be. Our advice: keep all of the potential risks in mind when purchasing these. If you mainly look for easy installation and maintenance, this line of HP filters (especially the HP-1002) might be just right for you.