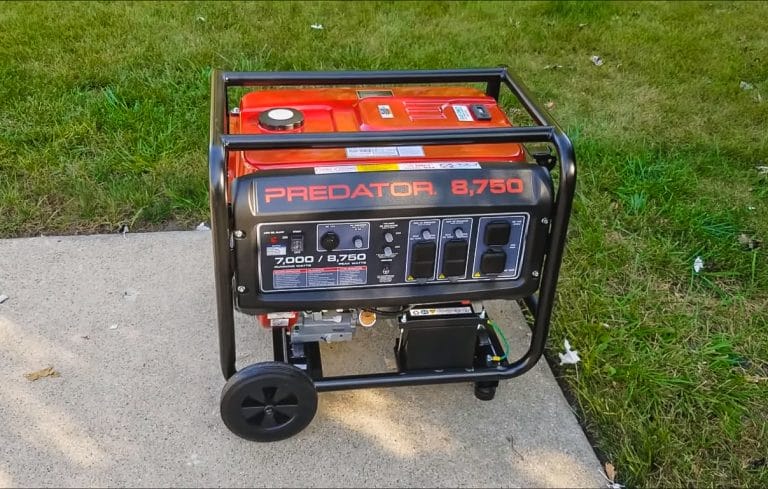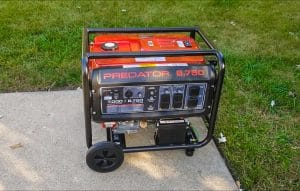 There's a high probability that you will need a generator to produce power at some time in the future. This could range from planned events such as a camping trip or game hunting. Spontaneous severe weather/geological events like blizzards, hurricanes, and seismic activity should also be considered. In any case, fuel-powered generators are recommended for having many features that are detrimental to maintaining an acceptable level of comfort in the outdoors or during a power failure.
Predator Generators Reviews: 8750, 4000, 3500 Watts
Below are detailed assessments on five of Predator's most popular generators found online, including a breakdown on the differences in features and important information to be aware of before you buy. Having an alternative power source is a great tool to help you stay prepared for subsequent events that may occur. This lineup is worthy of checking out by anyone looking to boost their preparedness long before anticipated or unpredictable occasions take place.

1. Predator 8750 / 7000 – Best For Severe Weather/Extended Use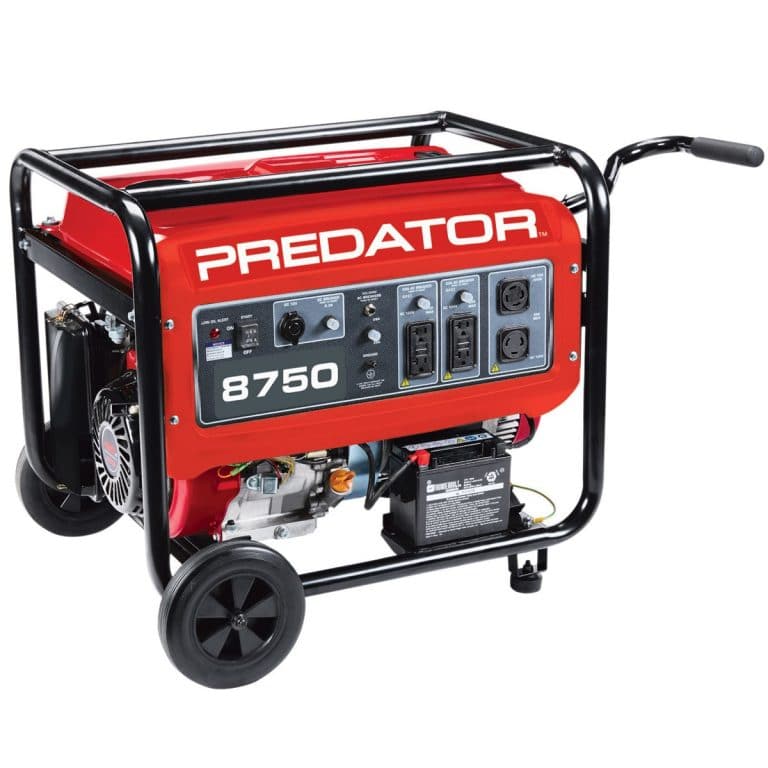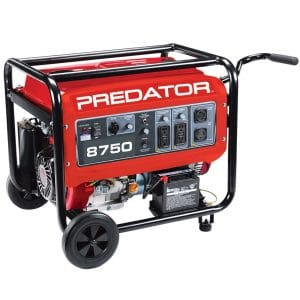 The Predator 8750/7000 is one of the heavy-duty varieties sold by the company and has plenty of features to accommodate any emergency that would require it to serve as a backup source of power. It has fuel startup but can be fitted with a battery, which is not included with the box, if you prefer electricity to power it on.
Solid Frame For Lifting
Upon inspection, the first notable feature is the roll cage, which is built to last and serves as a great handle grip for carrying it around. At the same time, the weight could be too much for one person to handle and demand assistance from a friend/relative. Aside from this, filling with oil could also be a chore. You may need a funnel in order to supply oil as the cap is quite difficult to reach and slight disassembly.
Quick and Easy Controls
Refueling can be done quickly since the cap is located on the top. You can easily peer inside to see what level remains. If not, the fuel indicator by the controls will notify you when its time for a refill.
Controls are the same as most generators, consisting of a familiar layout. If you have vision impairments, the text could appear quite small, so keep this in mind unless you don't have seeing problems.
Overall, the 8750/7000 can handle most power needs for an average sized home. It might be too big or heavy to bring with you to a hunting trip or campsite, so consider this generator if you live near an area that is prone to getting tropical storms or winter outages during the summer and winter months.
Pros
No loose parts to tighten during unboxing, strong framen
Straightforward button/switch configuration
Easy to fill with fuel
Cons
Filling with oil may require separate tools to avoid spillaget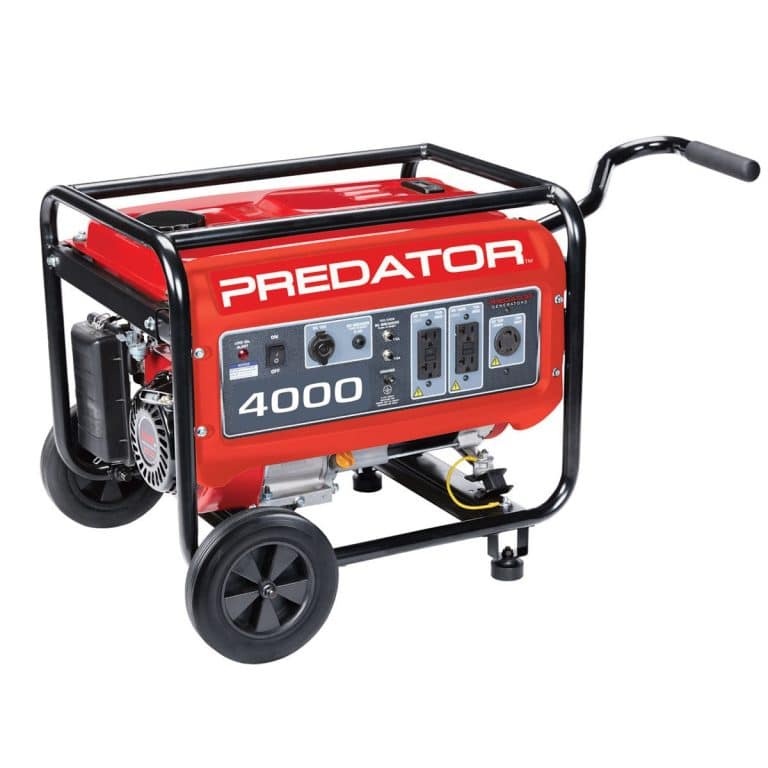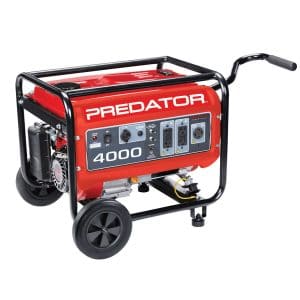 The Predator 4000 is identical to the 8750 yet has some differences. As the name suggests, the wattage consists of 4000 by 3200 running and combines 6.5 horsepower to generate nearly half-a-day of running time on a half tank of fuel. Even if parts do not last as long as expected, there are advantages that make it suitable for any home.
Compatibility is Key
The first is compatibility. Much like older car models, this generator can easily accommodate parts from other generators (items such as gaskets and carburetors in particular), so if you have an older model laying around, save those when the 4000 is in need of repair. If this does not apply, search online and you will find that any specific piece (such as a stabilizer unit) will be well matched.
Fit for your Electronics
Speaking of stabilization, the AC output is very stable if worried about your computers and laptops. If fuel and oil is kept at acceptable levels, very few instances of sudden shutdowns will occur. Carrying around is also much easier. There are wheels fitted at the bottom and a roll cage to eliminate the need for help when you're ready for setup. After you have found a spot, simply prime and pull the level once and you're good to go.
Pros
Low sound decibels
Stable AC power is great for sensitive electronics
Compatible with numerous parts (if needed)
Easy to carry around
Fast startup
Cons
Generator gasket may need to be replaced overtime (to avoid leaking)
3. Predator 2000 – Best For Camping Trips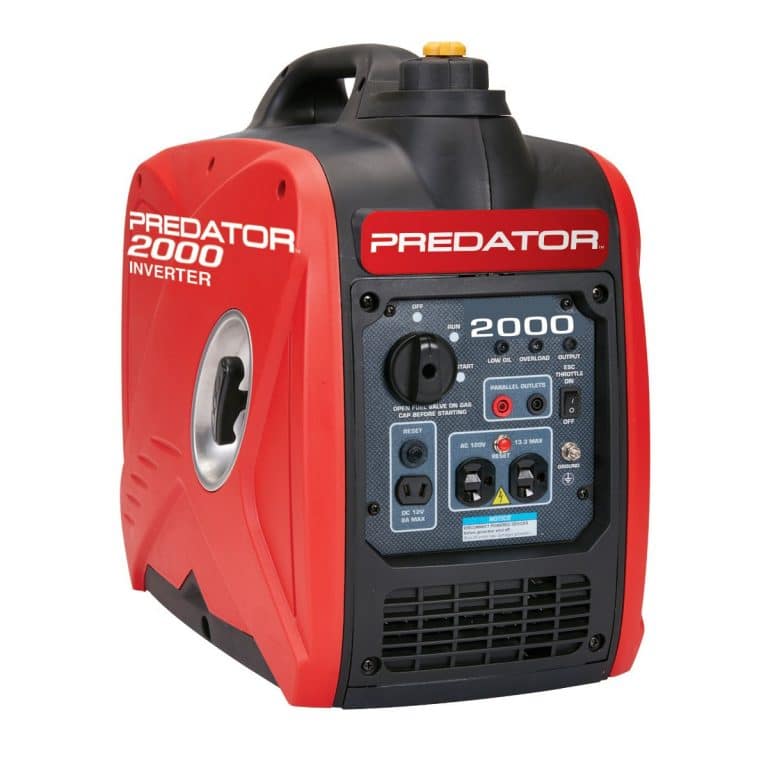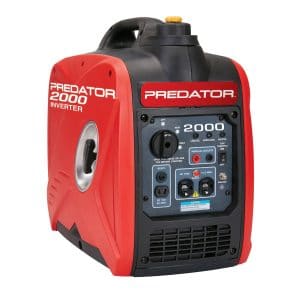 The Predator 2000 is another top-shelf inverter generator that deserves recognition. Although not a key feature, its appearance is impressive and fitted with a red protective covering with controls located on the side. It is the ideal product for quick setup and storage. Dimensions are gauged at approximately 22 x 12.6 x 18 inches. The Eco-friendly mode is very useful in lowering the amount of gas needed for the product to run as advertised, also doubling as a way to keep the noise level down.
What to Know About the Interior
However, before you settle on this, be aware that no wheels are added to the bottom. At 54 pounds, even this could be too much for some to carry around so easily, especially those with disabilities. There is no roll cage and like many inverters, it will force you to take apart the body to do an oil refill. If you are not familiar with generators of this sort, you will probably need to break out the instruction manual to avoid opening or damaging any parts when the action is undertaken.
Getting Power to Your Room
The Predator 2000 will allow you to enjoy outdoors more than a conventional generator. It will satisfy most people who need a basic power source that won't require an entire home's worth of wattage. Yet even in the home, one-to-two small rooms of appliances should be sufficient enough to work under the generator's capacity.
Pros
Compact and half the weight of conventional generators
Carrying handle at the top/ easy to carry around
Extremely fuel efficient
Eco Mode uses less fuel and generates less noise pollution
Cons
No roll cage; easy to tip over
Oil change requires disassembly
4. Honda EU2200I – Best For Safety Features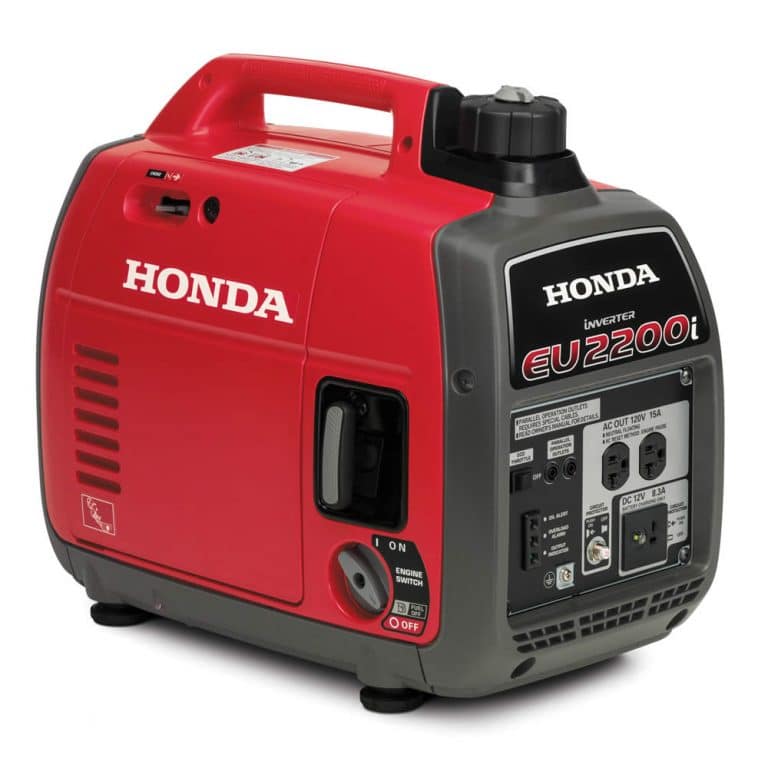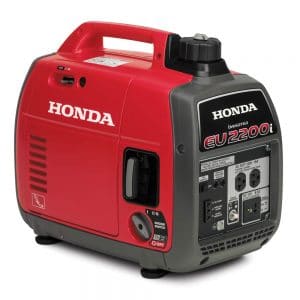 Generators rest in a competitive market and are always improving and adding on to what other products are missing from their specifications. Taking a turn from the Predator generators, the last featured product is Honda's EU2200I. Similar in weight and size to other inverters, the generator has some advantages that other competing brands lack.
Small Features with Big Advantages
Ventilation is important in keeping a generator working properly, including inverters.
The Honda EU2200I has ducts placed in just the right places to facilitate higher than expected air flow, which keeps the electric current running properly and extends the life of the engine itself.
The risk of fire is also greatly reduced. If you're looking for something that doesn't vibrate at an unreasonably high rate, this product tones down the shaking (and noise level) so a soft hum that doesn't deafen the immediate vicinity around it.
Use Indoors or Outdoors
Take note that people who expect to use this generator without conserving their need for electricity could be disappointed. The EU2200I caps at just 2200 Watts, meaning that heavy power users will probably be better off with a stronger machine. For all others, a small room with a refrigerator, microwave, lighting, and computer/TV station will be adequate with this Honda generator. Take it with you during a hunting trip or campsite out in the wilderness. If using for hurricane season, its advised to acquire if you know that your communities' power restoration will not be prolonged.
Pros
Good ventilation reduces the likelihood of power failure
Does not vibrate excessively
Quiet when running
Cons
Not recommended for heavy power consumers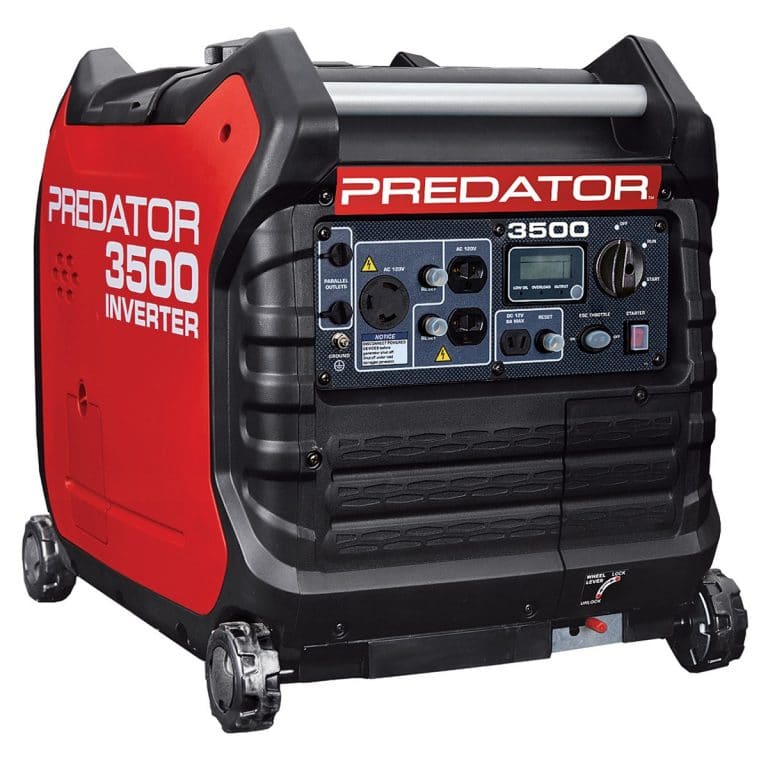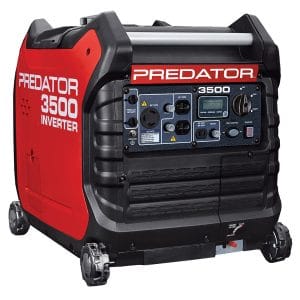 Inverter generators are becoming much more popular in recent years, with the Predator 3500 being especially in demand. While you might not find it great for powering an entire home (assuming your energy needs are very high), the alternative usage is strongly recommended for RV's or any planned outdoor event.
Helps to Save your Fuel
Some inverters do not carry wheels, making it a nice attribute to see on this Predator model. Fuel efficiency is a huge plus, needing less than 3 gallons for it to run smoothly for nearly a day. It also has overload protection, which will keep your electronics safe from tripping and overheating. Your smartphones, tablets, and laptops will remain safe from poor AC output.
Hook it to a Different Generator
If you own another generator and need something to boost the power, the 3500's power can be combined, or merged, with the former and increase the wattage threshold.
Still, the product is not perfect. In the event of an electrical issue, you might need to completely dismantle the board know exactly where the problem is located. For an inverter, it is quite loud when used at its maximum power. Regardless, these in no way lessen the benefits of the 3500 and the product remains a great buy for those who favor mobility over wattage.
Pros
Required only 2.6 gallons to fill with fuel
Screen indicator useful for detecting electrical overloads
Can be merged with another generator for additional AC power
Predator Generators – Buyer's Guide
Since buying the right generator is extremely important to sustain proper energy availability in your home, you should take the time to familiarize yourself with some of the key differences in generators to get the right product for you or your family. Here are some things to consider:
Wattage – Typically, most generators will have the wattage capacity listed on the product name of whatever item they are selling. For instance, the Honda EU2200I that was reviewed earlier has the designation listed to make it easier for the consumer to immediately know whether or not the generator has enough power for them. But how does one choose this? Here's how:
Know what you will use it for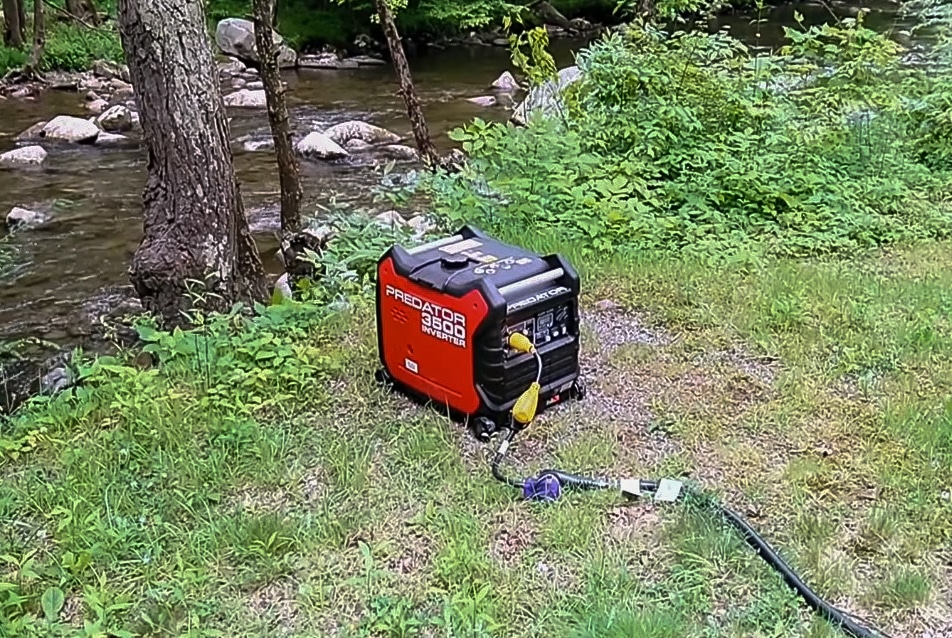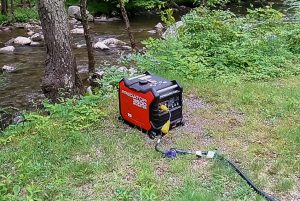 Know what you will use it for – Generators can be used for all sorts of purposes. If you love the outdoors and frequently take camping or trips in your RV, having a small generator can save you lots of money by reducing the fuel consumption required. As a result, fewer visits to refuel your vehicle will be necessary, as many new products are efficient enough to power a room's worth of electronics for 24 hours without need of additional gas. In this situation, an inverter is strongly advised since they are built with mobility and sustenance in mind. Furthermore, such an event normally won't justify the need for a large generator that weighs in excess of 100 pounds, which is overkill for such circumstances.
Know your possessions
Know your possessions – By this, you should know what items exist in your belongings that need to be charged or need a constant electricity source. Light is without question a basic necessity. Yet you should not forget about other appliances as well. Refrigerators, fans, air conditioners; all these items require power for you to use. As such, knowing their wattage requirements will give an indication as to what type of generator is right for you. It's also worth noting that some manufacturers will list their power capabilities as an approximate value, which means that you might need more or less than what is displayed. This is also in relation to the next consideration.
Compatibility with other generators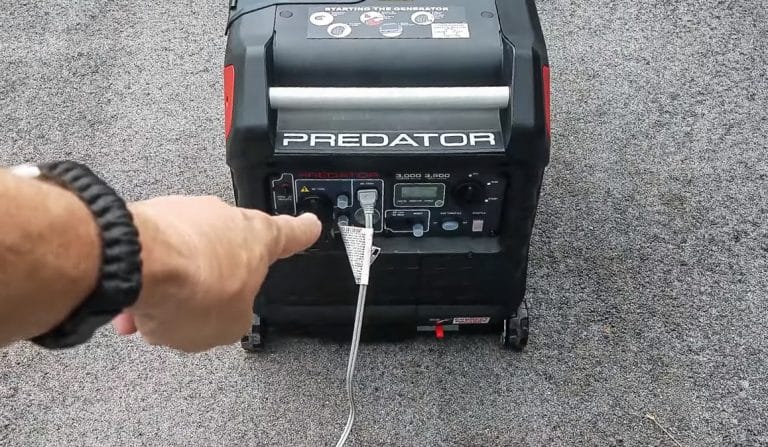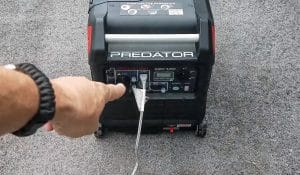 Compatibility with other generators – This technique is known as paralleling generators. If you currently own a generator and need a slight boost in power, you can hook such products together to share the same output. This increases the amount of power available to your home. For an example, if your generator is listed to facilitate up to 2000 watts and is fitted with 30A/20A outputs, you can use an adapter to combine another 2000-watt generator for a combined output of 4000 watts.
Frequently Asked Questions (FAQ)
What is the difference between a standard and inverted generator?

While there are many contrasts between the two, the most basic and important lie in the way that both enable AC power. A normal generator produces electricity with an alternator that's enabled to run at the frequency required to supply AC power to an outlet. Inverted generators do the same thing yet convert to DC power using a rectifier. A final conversion back to AC power results in electricity that has less risk of causing surges in your electronics, of which can be sensitive to such power alteration in a standard generator. Inverters, as they are often called, exhibit an alternating current (AC) similar to what is supplied by the company you receive power from.

What generator should I get if I am preparing for severe weather?

The generators listed above will all provide power to your home in the event of power grid failure. However, there are limitations set at any temporary source of electricity and, with this in mind, suggests that a generator with at least 3000 watts should be a minimum. While less than this amount is certainly doable, your electrical use will probably be lessened from what you're accustomed to receiving from your power company.

Your region is also a factor. Places that undergo extreme weather events are at risk of having power outages that can last days or weeks. Since heat is important to have during winter storms, you will need a generator that's suitable for providing heat to protect yourself from the cold. Whereas a place that's closer to the tropics might require air conditioning to remain on to cool down the heat and humidity. As mentioned, measure your power consumption by calculating the wattage rating on your most valuable needs (refrigerator, heat, AC, electronics, etc.) and use it to determine the correct generator for you.

How long do most generators stay powered before a refill is needed?

This changes with each make and model but most mobile and home generators can stay on from anywhere between six to 24 hours or more. The amount of power being used can greatly reduce or increase how economical your product will be. Some generators have settings with a threshold set to supply power ho higher than what is listed. This feature is most often labeled as Eco-friendly or Economy mode.

Additionally, generators will often list features as "run time: 10 hours on half capacity." For heavy power consumers, this means the product will run without requiring a refuel for 5 hours. Realistically, a reduction of power is often carried out when a generator is on, which is why the length of time is set to match average power usage.

What is the greatest danger from using a generator?

Never place a generator in an enclosed space. This includes your home, garage, trailer, RV, tent. Doing so could lead to carbon monoxide poisoning and cause severe reactions that require a hospital visit to treat or worse. It is one of the most common dangers with generators yet wholly avoided by following this rule. Furthermore, avoid contact with water and know how much electricity is being consumed to prevent overloading, which increases to chances of generator fire.
Conclusion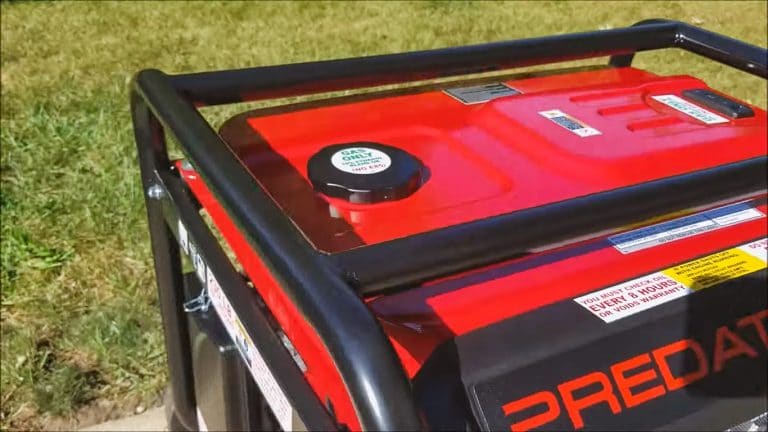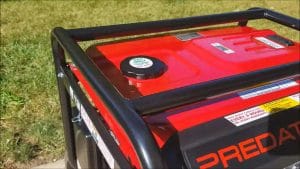 Generators have the potential to not only make outdoor events more comfortable. They can save lives as a temporary replacement as the foundation that provides power to your home. When you need a backup to keep your mobile devices charged or food items fresh from unwanted spoilage, they will give you the ability to keep your home functioning normally. As such, choosing the right brand is paramount to receiving the expected electrical supply for your living space demands. Examine the products reviewed to get the best choice and latest features on your next generator.