One of the easiest ways to take good care of your truck is by equipping a quality tonneau cover. The tonneau cover will keep your truck bed clean and keep the items stored inside it more secure. They also provide a sleek profile to your truck that improves fuel efficiency by reducing drag. New truck owners should consider one of our top tri fold tonneau covers as the first accessory they buy.
Tri Fold Tonneau Covers
Tri fold tonneau covers have hard or soft tops available. They usually have aluminum frames underlying either a soft, vinyl panel or a hard, fiberglass panel. The folding covers divide into three sections covering the entire length of your truck bed. The advantage of tri fold tonneau covers is that they are easy to use and provide some of the best balance between accessibility, security, and protection from the elements. Other truck owners might prefer a single piece cover or a retractable cover, but neither of those are as versatile as a tri fold tonneau cover.
Truck owners have seen the cost of top tri fold tonneau covers come down even as the quality has improved. The American tri fold tonneau covers reviewed below all combine strong performance with a good price.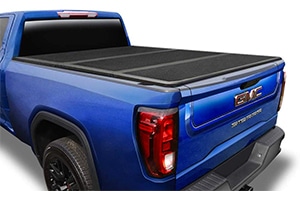 Our top rated tri fold tonneau cover is this T5 from Tyger. The system impresses with aircraft grade aluminum alloy panels that are surprisingly lightweight. The folding frame is high quality and easy to use with an aluminum skeleton underlying a stainless steel and nylon assembly. The system comes pre-assembled with a quick-release clamping system that offers a weather tight seal without requiring drilling for installation.
Hard cover tri fold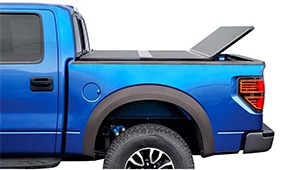 Tri fold tonneau covers hard tops must be able to handle a heavy load. The T5 from Tyger delivers with a heavy 500 LB weight capacity evenly distributed. The panels overlaying the truck bed are made from aircraft-grade alloy aluminum panels sandwiching thick PC polymers carefully arranged in honeycomb structures for maximum strength. The panels have an attractive, textured black coating. The system offers maximum security against theft and the elements. A few drivers reported clamps that were stripped but that is probably from them over tightening the clamps during installation.
A lot of times in life you get what you pay for and that is the case with tri fold tonneau covers. This system costs a bit more than comparable models but offers top quality features and added benefits over soft tops or rolling models. With weathertight sealing and secure locking clamps, drivers are secure in knowing their cargo is protected. Add in the American design and local customer support team supported by a 5 year warranty and there is a lot to like about the T5.
Pros
Heavy duty top panels
Strong theft protection
5 year warranty
Cons
It won't last as long as your truck
Clamps can sometimes strip
Expensive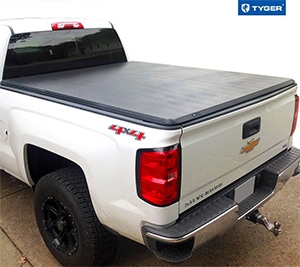 The Tyger T3 is a top of the line soft style tri fold tonneau cover that provides drivers good coverage and easy installation with a quality, marine grade vinyl cover fabric. The T3 uses the same aircraft grade aluminum alloy frame as our top rated choice the T5, so truck owners know it will have solid mechanics and a lasting strong, sturdy feel. Rear clamp locking system helps secure the truck bed.
Tough Tri Fold Cover
Quality is always a concern with soft tonneau covers. Some products will start to deteriorate quickly as they are exposed to the elements. The T3 from Tyger provides drivers peace of mind with a heavy duty, 24oz marine grade vinyl that is dual coated and can stand up to the elements.
Stretched weathertight across an aluminum frame, the soft cover can withstand the outdoor snow as well as most hard covers.
The Tyger T3 installs easily with no drilling required. The system has front clamps that hold tight to keep it secure and a rear clamp that unlatches easily with a quick latch feature. The cover goes on top of the bed rails but can accommodate even over the rail bedliners. All necessary instructions and mounting hardware is included and custom fit models are available for most trucks including Ram 1500, Tacoma, Ford F150, and Sierra/Silverado. Tyger takes a serious approach to quality and the product is US patented and comes with an impressive lifetime support.
Pros
Light and easy to operate
Weathertight installation
5 Year warranty
Cons
Vinyl cover fabric
2/3 Fold use can be problematic
Flexes a bit at high speeds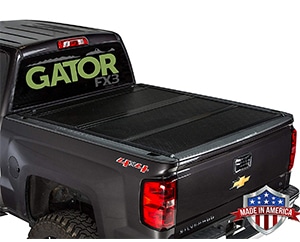 The Gator FX3 hard folding is our top reviewed tri folding tonneau cover in terms of durability. It has an astoundingly strong design with fiberglass top panels and aluminum sub-panels. This system is exceptionally resistant to scratches and dents offering a level of toughness not seen in other models. With strength to hold 300 lbs evenly distributed across the cover it can withstand the workplace environment and handle heavy loads.
Premium Style
The Gator FX3 is a very good looking cover with its fiberglass reinforced polymer top panels. The hard folding cover installs tight with a flush hinge system and EPDM seals and hinges that provide good water resistance. The Gator FX3 fits inside the bed with rail guides that automatically set the height and direction of the side rails to give the cover a professional look and feel.
Easy Operations
The FX3 offers easy full bed access with an innovative pull cable. Simply pull the cable from either side of the bed to disengage the latches and fold the cover panel by panel to the front of the bed. It also offers the versatility of securing as a ⅔ bed using optional buckle straps. Available for most popular truck models including Tundra, Tacoma, Frontier, Silverado, Dodge Ram and more.
Gator backs the FX3 with a 2 year warranty and the tonneau cover is made in the USA.
Pros
Pull cable unlatching
Fiberglass top panels
300 lb load cover strength
Cons
Premium Price
Frame can wear down over time
Only a 2 year warranty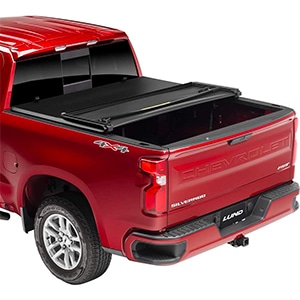 Drivers in need of a sturdy, economical cover that fits your truck bed and gets the job done should look at the Lund Genesis Tri Fold Tonneau Cover. This soft tri fold cover is a no-frills solution for blocking out moisture and protecting your truck bed. The cover features powder coated bows and rails to help prevent snow and water build up.
Attractive Truck Bed Cover
Drivers like adding a tonneau cover because of the smooth lines and distinctive style of a covered bed. This tri fold delivers with a black vinyl finish that looks good. The vinyl is durable and tear resistant. The same material is applied to both sides of it. It is not as fancy a finish as other top options, making this more of a 'tonno' cover than a tonneau cover.
Installation is quick with no drilling required. The tri fold uses quick-attach cam action springs to cover and uncover the truck bed quickly. The mounting hardware is well padded to avoid any metal to metal contact with your truck bed. Lund is a solid American manufacturer of car and truck parts with a wide range of products offered. They back up this tri-fold with a limited lifetime warranty.
Pros
Economical choice
Solid mounting hardware
Strong Features at Low Price
Cons
Black vinyl top panels
Long term durability concerns
Limited warranty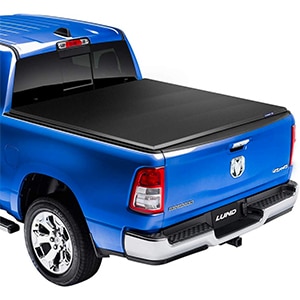 The Lund Genesis is one of our favorite economical choices for truck covers and this Elite model provides a nice step up with added features and benefits for just a few more dollars. Drivers will notice the material difference immediately as the Elite replaces the black vinyl cover material with an attractive twill weave material that installs flush and provides a bit more matte black finish.
The soft cover of the Genesis Elite is a HAARTZ maintenance-free material with a lightly-textured black finish. The fabric is mold, mildew, and UV resistant and the full, one-piece seamless cover is supported by a corrosion resistant powder-coated aluminum frame.
The system protects your cargo from the weather with a tight seal and comes fully assembled requiring no drilling or special hardware.
American made tonneau cover
Lund is an experienced USA aftermarkets company with a wide range of products. This product is made in America and backed by a limited lifetime warranty. The tri fold cover is available as a custom fit for most popular trucks by Ford, Dodge, Nissan, GMC, and Chevy. Drivers looking for a matte black finish instead of a shiny finish should strongly consider this offering from Lund.
Pros
Strong, UV resistant top panel material
Easy installation and accessibility
Attractive matte black finish
Cons
Cumbersome clamps
Flaps a bit on highway
Limited warranty
Top Tri Fold Tonneau Covers – Buyer's Guide
Drivers looking to add a tonneau cover to their truck bed have a lot of options. Tri fold covers are versatile with many of the same advantages as single piece or retractable covers but without all of the drawbacks. Customers should carefully consider how they will be using their truck and what will be in their truck bed before making a purchase.
Durable Top Panels
Soft and hard tri fold covers both need exceptionally durable material covering their top layer. The cover will take a beating from the elements and the road. Low rated covers usually suffer from a short lifespan because the top material gives out, fades away, rips or tears. All of the tri folds will look good out of the box and the ones featured here in our reviews can withstand heavy use.
Soft or Hard Tri Fold
The convenience of a tri fold is unmistakable and most every truck can benefit from some form of truck bed cover. Drivers trying to choose between a soft or hard cover should consider the load bearing capacity of the covers along with the look and feel of each option. Snow can pile up for quite a while before damaging a newer tri fold cover no matter if it is soft or hard cover. A hard cover provides a bit more of a visual deterrent from a security perspective, and has a cleaner style.
Installation and Ease of Use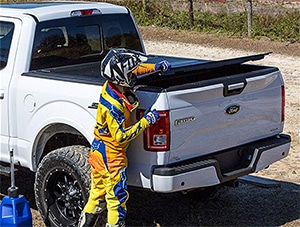 Most modern tri fold covers will offer some sort of aluminum subframe. Buyers should be mindful of how that frame connects to the truck and if any drilling is required. For clamp and latch installation it is important to avoid low rated products that have poor mechanisms. Over time these hinges can be the first points of failure. Also pay attention to how the sub assembly connects to the top panels. Make sure that the connection points are durable and avoid any metal on metal contact with your truck.
Conclusion – Our Top Pick
Determining the best tonneau cover from our reviews is a careful consideration in price and value. Some of our budget choices present solid quality and craftsmanship for remarkably lows prices, but for drivers investing in their truck for the long haul can spend a little bit more and get a lot more features. Shoppers should consider starting with the elite Tyger T5 and going down in price from there to a purchase price they are comfortable with. The value and durability of the T5 helped it stand it in our reviews.